Bad Country DVD competition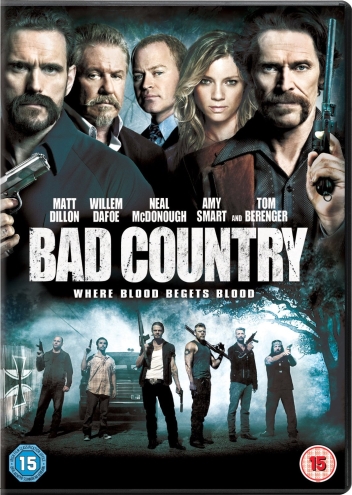 *** THIS COMPETITION HAS NOW CLOSED ***
To celebrate the release of crime thriller Bad Country, starring Willem Dafoe and Matt Dillon, We've got 3 copies on DVD to be won, courtesy of Sony Pictures Home Entertainment. Closing date: 27th March 2014.
About Bad Country:
Sony Pictures Home Entertainment invites action and suspense fans to discover Bad Country, the new crime thriller available now on DVD and Digital.
This high-stakes drama tells the gripping tale of a Louisiana detective (Willem Dafoe) who teams up with a contract killer-turned-informant (Matt Dillon) to take down the most powerful criminal enterprise in the South.
The cast starring alongside two-time Academy Award® nominee Dafoe (Best Supporting Actor, Shadow of the Vampire, 2001; Best Supporting Actor, Platoon, 1986) and Academy Award® nominee Dillon (Best Supporting Actor, Crash, 2006), includes Amy Smart (Crank), Neal McDonough (Captain America: The First Avenger), and Academy Award® nominee Tom Berenger (Best Supporting Actor, Platoon, 1986).
Directed by Chris Brinker, producer of The Boondock Saints and The Boondock Saints II: All Saints Day, the DVD features deleted scenes and "Taking Down An Empire: On the Set," an in-depth featurette on the making of this modern, film-noir thrill ride.
Co-starring in Bad Country is Kevin Chapman (Person of Interest), Bill Duke (X Men: The Last Stand) and Chris Marquette (Alpha Dog).
Synopsis: When Baton Rouge police detective Bud Carter (Dafoe) busts contract killer Jesse Weiland (Dillon), he convinces Jesse to become an informant and rat out the South's most powerful crime ring. So when the syndicate orders Carter's death and Weiland is ID'd as a snitch, the two team up to take down the mob and the crime boss (Berenger) who ordered the hit.
For your chance to win, correctly answer the following question:
Willem Dafoe appeared in a blockbusting failure of a sci-fi flim in 2012. What was it called?
Best of luck.
Terms & Conditions
1. This competition is only open to UK residents aged 15 or over, excluding BOOM's friends and family and anyone else directly associated with this promotion.
2. The first three names drawn will receive a copy of Bad Country on DVD.
3. One entry per person - and yes, we will check. If we find that you have entered multiple times, we will disqualify you from this competition. Repeat offenders will be disqualified from entering future competitions. And we don't like robots, so we investigate multiple entries and entries suspected as being from robots will be deleted.
4. Closing date for entries is midnight on 27th March 2014.
5. Winners will be notified within 7 days by email. If a winner does not respond with their posting details 7 days after we sent them the initial notification email, their prize will be offered to another person following a subsequent further draw. This process will repeat until somebody responds and tells us where to send the prize. If you're entering, please do remember to check your emails!