Devil in the Woods DVD competition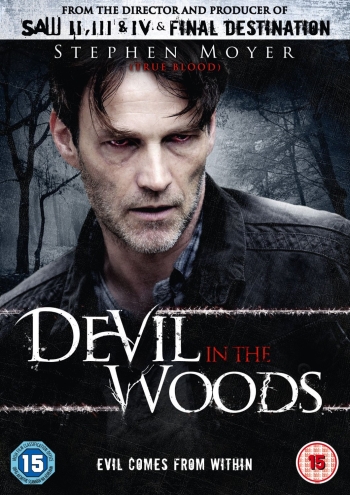 *** THIS COMPETITION HAS NOW CLOSED ***
To celebrate the release of horror Devil in the Woods on DVD, starring True Blood's Stephen Moyers, we've got 3 copies to be won, courtesy of Kaleidoscope Home Entertainment. Closing date: 20th March 2014.
About Devil in the Woods:
Devil in the Woods is the nightmarish new horror film from director Darren Lynn Bousman (Saw II, III & IV) starring True Blood's Stephen Moyer.
Also starring Shawn Ashmore (X-Men trilogy), Devil in the Woods is a visceral and bloody mix of horror and the supernatural and is released on DVD by Kaleidoscope Home Entertainment on 3rd March 2014.
Richard (Moyer) is eager for his son, step-daughter and new wife to get along, so plans a family vacation to the reclusive Pine Barrens.
Desperate for real solitude, Richard leads them deeper into the woods where it quickly becomes clear that all is not peaceful as animals are found mutilated and horrifically killed. Struck down by illness, Richard and his family are stranded as the local legend of the 'Jersey Devil' that stalks the darkened woods, starts to haunt their thoughts.
What started out as a peaceful family trip ends up being a deadly nightmare.
For your chance to win, correctly answer the following question:
Stephen Moyer's is best known for playing the sexy vamp Bill Compton in True Blood. In 2012, a film was released that featured an unusual hunter of vampires. What was it called?
Best of luck.
Terms & Conditions
1. This competition is only open to UK residents aged 15 or over, excluding BOOM's friends and family and anyone else directly associated with this promotion.
2. The first three names drawn will receive a copy of Devil in the Woods on DVD.
3. One entry per person - and yes, we will check. If we find that you have entered multiple times, we will disqualify you from this competition. Repeat offenders will be disqualified from entering future competitions. And we don't like robots, so we investigate multiple entries and entries suspected as being from robots will be deleted.
4. Closing date for entries is midnight on 20th March 2014.
5. Winners will be notified within 7 days by email. If a winner does not respond with their posting details 7 days after we sent them the initial notification email, their prize will be offered to another person following a subsequent further draw. This process will repeat until somebody responds and tells us where to send the prize. If you're entering, please do remember to check your emails!