Last Passenger DVD competition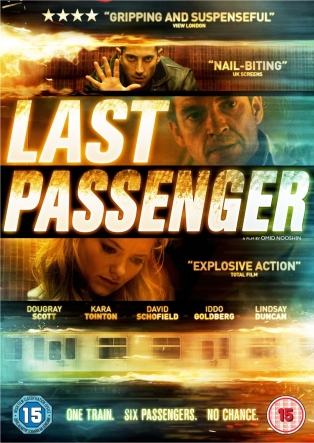 *** THIS COMPETITION HAS NOW CLOSED ***
To celebrate the release of British thriller Last Passenger, starring Dougray Scott and Tara Tointon, we've 3 copies on DVD to be won, courtesy of Kaleidoscope Entertainment. Closing date: 13th February 2014.
About Last Passenger:
Lewis Shaler (Dougray Scott) is an overworked doctor and devoted single dad heading home with his young son Max on the last train from London. When he strikes up a relationship with a beautiful and flirtatious stranger (Kara Tointon) Lewis believes life is finally looking up. But events then take a dark turn when Lewis discovers the guard has mysteriously vanished and the brakes have been sabotaged. Unknown to the handful of remaining passengers, a vengeful sociopath has taken control of the train and is hell-bent on crashing it, taking his passengers with him to the grave.
As the speeding locomotive ploughs through stations and level crossings, the body count rises and panic turns to terror. Lewis realises that the police are powerless to stop the diesel-powered 'slammer' train, and the desperate passengers must find their own way out of this nightmare. Lewis takes the lead in a series of increasingly perilous missions to stop the train before the driver can realise his dark plan…
Last Passenger, directed by Omid Nooshin, is a contained yet kinetic thriller with a relentless momentum, melding suspense, action, and genuine heart to get audience pulses racing -- at 100 miles per hour.
For your chance to win, correctly answer the following question:
Dougray Scott starred as Arthur Miller in a 2011 film. What was it called?
Best of luck.
Terms & Conditions
1. This competition is only open to UK residents aged 15 or over, excluding BOOM's friends and family and anyone else directly associated with this promotion.
2. The first three names drawn will receive a copy of Last Passenger on DVD.
3. One entry per person - and yes, we will check. If we find that you have entered multiple times, we will disqualify you from this competition. Repeat offenders will be disqualified from entering uture competitions. And we don't like robots, so we investigate multiple entries and entries suspected as being from robots will be deleted.
4. Closing date for entries is midnight on 13th February 2014.
5. Winners will be notified within 7 days by email. If a winner does not respond with their posting details 7 days after we sent them the initial notification email, their prize will be offered to another person following a subsequent further draw. This process will repeat until somebody responds and tells us where to send the prize. If you're entering, please do remember to check your emails!