21
by Adele

It's fair to say that Adele did alright with her debut album 19. The single 'Chasing Pavements' put her firmly on the musical map in the UK, whilst a lucky appearance on a US TV show boosted her profile in the States; she was the musical guest booked on the show Saturday Night Live, but it just so happened to be the week that wacko Sarah Palin appeared on the show, which helped SNL have its biggest ratings in 14 years with over 17 million viewers. Subsequently, the next day America was downloading 19 from iTunes by the KFC bucket load.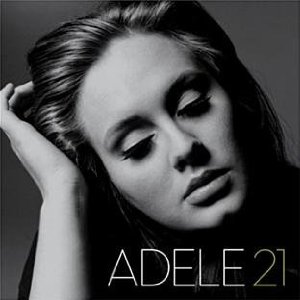 So even with the release of this her second album, Adele is a huge star. The pressure is on then.
She sets out her stall in fine style with the epic 'Rolling in the Deep'. Its blues-tinged sound gives it a cool retro feel, with Adele letting loose with some cracking vocals. It will probably end up being 21s 'Chasing Pavements'.
That blues train continues down the track with 'Rumour has it'. In places it feels like the bastard child of Robert Palmer's 'Addicted to Love' with a truly sassy attitude. Adele slows the pace down nicely for some vocal warbling, before the song takes off down that dusty track once more.
With 'Turning Tables' the album takes a bit of a left turn, with a more soulful sound with soft strings and pianos. Although it attempts to hit you with an emotional punch, it lacks a certain something. Maybe it's the fact that it's a little on the obvious side.
'Don't you Remember' takes a further left turn, as a soppy siren's ballad; it has the kind of production that is reminiscent of the seventies. It screams radio 2 airplay and in that respect, it's a little troubling.
And then the more contemporary 'Set Fire to the Rain' comes along, reassuring us that everything is going to be ok from here on in. It's got a bit of fire in its belly, and is a highlight of the album.
Adele puts her soul hat back on for 'He Won't Go', which again is produced with the retro knob turned full up, but it just works better here.
Adding another genre to the musical pot, Adele does Gospel with 'Take it All'. At this point it's starting to feel less like a musical journey and more of a showboating experience. That's not to say she does a bad job of it, she doesn't; but with her voice jumping through so many musical hoops, with the expectation of a standing ovation after each one, it's all a tad contrived.
Oh, now she's singing like Macy Gray. 'I'll be Waiting' is back to soul and is better for it. Again, it's been wrapped up in a wall of noise from another era. It works well here though.
'One and Only' sees country cross with soul. It was only a matter of time really. There's nothing subtle here; Adele gives her voice some rigorous exercise, reaching up and down for those high notes. Technically it's competent, but it misses that key ingredient – real emotion.
Next is a cover of The Cure's 'Lovesong'. It's a slower version, and maybe because of that fact, doesn't quite work. Adele shows more control in her vocals, but by trying to turn it into a lounge song, ends up failing. You could see someone like Sade pulling it off though.
Another song and another ballad. 'Someone like You' is that rare commodity here, as it as more heartfelt than most. Maybe it's the fact that she's not attempting to continually whack her big voice over your head. It's simple, uncomplicated and honest.
'If it Hadn't Been for Love' is old school blues. There's no doubt that Adele is competent in that particular genre, and it doesn't get better than this.
The last track is the most basic of ballads. 'Hiding my Heart' is just Adele and a guitar. It sounds pleasant enough, but just doesn't do much. There's probably a touching story in there about lost love or something, but it's far too easy to drift off and think of more interesting matters.
There's no denying that Adele is a talent. She does have a great voice, but at times, she just throws too much of it in our faces.
It's no surprise to learn that she was a product of the BRIT school (a bit like the school in Fame but with less leg warmers). There's an eagerness to perform in her voice, although not necessarily to please.
21 also feels like its covering a lot of musical bases. On the one hand this could be seen as showing how diverse an artist can be; but at the same time it feels a little like a marketing ploy in trying to attract as large a demographic as possible. It's a thin line between Adele the artist and Adele the brand, and this album definitely crosses it. It's ironic in an industry that's now all about the numbers that Adele has chosen to give both her albums numeric titles.
When she attempts to sing with real passion, it does sound forced. And in that sense this is all about produced rather than organic talent.
It doesn't help that the album is nearly an hour long. There are too many tracks here, and because of that, she doesn't do herself any favours. If she wanted to make a soul album, she should have done - or a blues one, but by throwing so many genres into the mix, not only does it water down her identity it waters down our interest.
Adele has proven that she has potential, but it may be a few years away yet, or numbers, until she proves that she's the real deal.