Humbug
by Arctic Monkeys

It's no surprise that a band such as this would succumb to the dark side. What is surprising is that they've done so so damn quickly – with this their third album.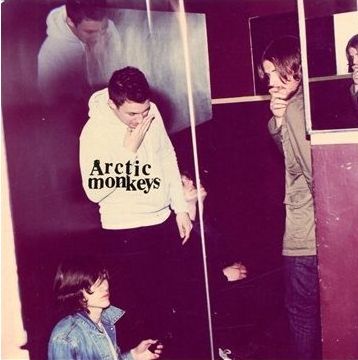 We may not have far to cast the blame either, with the musical Sith Josh Homme (Queens of the Stone Age) getting a co-producing credit for his dark efforts. How dark is dark? Trouble sensing any light signs of the force here, will you have.
That cheeky Northern chappy charm has been replaced by a brute of a noise. Guitars grind against your ears, quite possibly tearing the very fabric of space and time in the process. And for the most part, Alex Turner sounds like he means business. The only time he lets his guard down is on the wishy washy Secret Door, which almost sounds as if it made the album on a bet. It sits like a sensitive nerd with its knees trembling on the top deck of a bus, at the sight of some thugs from another school bounding menacingly towards it. And it deserves a slap too.
Other than that, the pop has well and truly been popped out of the Monkeys. The thing is, it works. Sure, they could have easily churned out more of the same – and let's face it, their past efforts haven't been too shabby – but this album rocks. Many of their die-hard fans would probably cross the road to avoid it, but that would be a shame. There's nothing wrong with a band flexing its muscles, particularly if they can do it in such a convincing fashion like Sheffield's finest have here.
They have maintained their simplicity though; only ten tight tracks, running at a breezy 39 minutes in length. So hardly an album of 20 minute guitar solos then. This means that none of them really have time to outstay their welcome, except perhaps... you guessed it, the far-too-frothy-for-its-own-good Secret Door.
The only downside is that Turner's vocals tend to stay on the gruff side pretty much throughout, with only a slightly lighter tone making a brief appearance on Pretty Visitors. But that's no real hardship, in the rather grander scheme of things.
It's a brave foray into the dark side then - one that some will certainly find hard to accept – but shouldn't and probably won't put the band off; they obviously fancied a change in direction, and they have well and truly ticked that particular box. And for that they can only be commended. If their aim was to deceive, as the Humbug title suggests, then they've certainly done that. But within that deception lies the truth that the Arctic Monkeys are truly a force to be reckoned with.