Babel
by Mumford & Sons

Despite sounding like a friendly removal firm, Mumford & Sons have come a remarkable distance, moving their musical wares, in a very short space of time.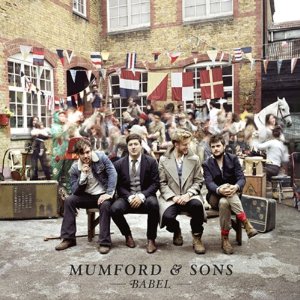 Much of their success can be attributed to them performing songs from their 2009 debut album Sigh No More continuously on the festival circuit. As anyone knows who has ever attended one of these gigs in a field, they tend to attract a large contingency of the unwashed. And as it turns out, the gentle indie rock that this band subscribes to is a big hit with these types of dirty travellers. No, not gyppos exactly, but not far off of it.
This loyal following soon led to massive radio airplay, which in turn, led the affluent middle class to buy into their rural sound, as it goes exceedingly well with their pinot noir dinner parties.
The fact that the band have named their follow-up effort Babel (the Hebrew name for Babylon), will simply be enough to get the middle classes frenziedly downloading it from iTunes for their next soiree, because it just sounds so deep and meaningful. And luckily for them, it doesn't play out so bad either.
From only just a few bars of the album's eponymous opening track, you know immediately who the song is by. Sure, you would have already known that if you had bought the album, but the point is, although this is only album number two, the band already have a recognisable sound, love it or loathe it. 'Babel' goes full throttle (or as about as full throttle as a folk track can get) with a cacophony of merry banjos and such. Lead singer Marcus Mumford also gets to let rip vocally. Regardless of whether you like his voice or not, he should be commended on the ability to show real emotion within it, which is horrifyingly rare in this day and age.
With little more than a slight pause, 'Whispers in the Dark' picks up from where 'Babel' left off. It's a jolly tune, that you could probably line dance to, if you were so inclined. But as they've proven in the past, the band have a canny way of writing infectious folk songs. It's surprising that such a thing isn't outlawed, but even then it would only go underground and be enjoyed surreptitiously like moonshine.
The perfect example would be the first single 'I Will Wait'. It's a bouncy, earthy affair that can easily sneak up on you and take you by surprise. It gently builds to a warm crescendo that is no doubt floating out of the windows of those living in Islington this very minute, especially the coffee shops of Upper Street that they frequent. It's a glorious slice of folk pop, if there is such a thing. Hate it at your peril.
Maybe it's the fact that no one else sounds quite like him that Marcus Mumford has such an affable voice. 'Holland Road' is yet another perfect example that showcases his credible vocal range; but not just that, the obvious passion he conveys with it. And to top it off, he's joined by a pleasing horn section, that just help to cement how annoyingly joyous the band can be.
There's an obvious fragility to 'Ghosts That we Knew', produced as it is with a gentle hand. Marcus sings quietly in warming tones against a bed of soft strings. You can almost hear the crackling of a camp fire in the background.
The band let a rip a little with 'Lover of the Light' which builds to a level of jauntiness that's almost embarrassing.
The lights are low once again for 'Lovers' Eyes'. The band are very good at musical Lego, as they consistently manage to put just the right bricks together to create the perfectly balanced song. This track has a surprising amount of punch to it, but it works well. It also finishes with a banjo flurry which is always a nice touch.
Marcus Mumford has the perfect voice for a folk ballad song, as he proves, rightly, here with 'Reminder'. His voice, as always, takes centre stage, supported by guitar. At just over two minutes in length, it's also the shortest track on the album.
The slower pace continues with 'Hopeless Wanderer'; a little way in however, and it changes direction quicker than Nick Clegg. It puffs out its chest and soon becomes a track to make more of a statement. It's bold and just a little bit loud, for a bit at least. It's probably the closest the band gets to something remotely epic. They pull it off too.
Some plucky banjo strings make an appearance in the moody 'Broken Crown', giving the song a pleasing texture. It's also a little darker in tone, with Marcus giving it his all vocally.
'Below my Feet' finds the band on softer, more re-assuring territory, despite the appearance of what sounds like an electric guitar in the background; that can't be right, surely? It slowly builds into something meatier, without going over the top. Out of nowhere it somehow morphs into an elegant anthem. It would be the perfect song to end an album with, going out with a bag, but there's still one track to go.
The album ends with 'Not with Haste'. It has the band's now trademark banjo bits, as well as piano, with a section that goes quiet so that Marcus' vocals are all the more poignant. Doesn't quite bring the album to a rightful conclusion like 'Below my Feet' would surely do, so it does end on somewhat of a whimper. A pleasant enough whimper, but a whimper all the same.
The jury is still out as to whether or not Mumford & Sons are nothing more than this generation's version of The Levellers. They may come across as middle classed hillbillies, but there's no denying they do what they do remarkably well.
Babel proves that the success they had with their first album was not a one-off. The band offers something truly refreshing in these years of humdrum music that we currently live. They are gifted musicians, who sound like they really enjoy playing the music they play. And Marcus Mumford is a talented vocalist, who makes what he does sound all too effortless.
It's all too easy to knock them for a whimsical sound, with each song pretty much sounding like the next. The truth is however, that they clearly put a lot of work and effort into their music; there's a structure that exists with which they layer their songs, many of which are quite intricate both lyrically and musically.
So what if it gets played to death at dinner parties up and down the country? At the very least it will mean we don't have to hear bloody Adele all of the time.
Is this album the Promised Land for Mumford & Sons? Its huge sales will suggest that yes, they have definitely made it to the right place. And deservedly so.