Battle Born
by The Killers

Whatever happened to The Killers? When this four piece outfit from Las Vegas released their debut album Hot Fuss in 2004, there was something a little edgy about them that made them stand out from a growing dirge of identikit pop acts.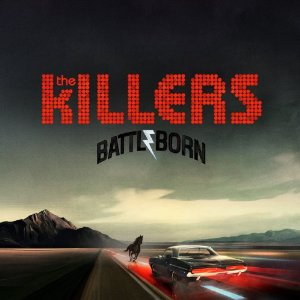 But with every album release that followed, there's a noticeable blandness that has washed over their material, and there's no change with the release of this their fourth studio long player.
Despite an ambiguous beginning, the opening track 'Flesh and Bone' grows in stature before erupting into a rousing chorus of approval. It has a feeling of stadium rock about it, perhaps not playing to a full capacity crowd.
And then there's the first single release 'Runaways'. It doesn't bode well when it opens with a noise that sounds like the intro to a Wilson Phillips song. And then it gets worse. Brandon Flowers then does a Stars in their Eyes special by doing his very best Meatloaf impersonation. It's a spectacular example of an eighties rock ballad. As hideous as it sounds initially, it has a guilty pleasure feel about it, as it sucks you up into its dirty world like a Dyson. Maybe it's just a new genre they're introducing, which shall be known as ironic rock.
They slow down for 'The Way it Was', but the ironic rock continues. Where 'Runaways' has at least a punch about it, there's a dullness about this track that there's just no getting away from. It has high production values, but no emotional values whatsoever.
'Here with Me' begins yet again with an intro that you would do well to stay awake through. Then Flowers turns on his adopted power ballad vocal powers to unleash a drab chorus. The production makes nice swirly noises in the background, but it's all just so obvious and predictable.
Pushing up the bpm's is 'A Matter of Time', finally giving the album some needy oomph. Sadly it doesn't amount to much though, resorting to some chanting in the background to try and carry the song through to a knowing end. Ronnie Vannucci gets to hit his drums with some venom, but the song is just another disjointed piece of a what its beginning to sound like a patchy themed album, like some dodgy seventies rock opera.
The electronic keyboards get a dusting off and are more prominent on 'Deadlines and Commitments', making it one of the more tolerable tracks. But it might be just the Genesis drums in the background that do the job.
By the time you reach 'Miss Atomic Bomb', you notice just how formulaic The Killers are. Gentle intro, building slowly to a pounding chorus, then fade. It's a pattern repeated time and again on this album.
Brandon fills his lungs, without surprises on the next track. 'The Rising Tide' is the worst kind of album filler.
'Heart of a Girl' takes you by surprise with the gentle, rhythmic plucking of a bass guitar setting up the scene. It's the first song that doesn't sound generic – it doesn't sound original either, sounding as it does like a U2 b-side in places, but at least it sounds different from everything else here.
Having had a more than touch of Meatloaf earlier, 'From here on Out' is a mix of Tom Petty and early Fleetwood Mac. It's pretty enough, but it's hardly rock and roll.
It's ballad time with 'Be Still'. If it stirs any kind of emotion in you, then you're probably the kind of person who gets emotional making a cup of tea or finishing a crossword. "Is this real or just a dream?" Flowers asks. There's probably a good reason why he left out nightmare.
At last, the final track. The eponymous track brings things to a musical close, and it's a great feeling; that's nothing to do with the track, just the fact the album is oh so close to ending. Again, if you close your eyes, you can imagine Meatloaf singing it, but only doing a better job.
It's not sure what happened to the creativity this band once had, but it certainly doesn't make an appearance on this album.
Hopefully it really is just them experimenting in their own sub genre of ironic rock, and that normal service will resume next time. Or maybe, this is just who The Killers are now. The kind of band that should really just be playing quietly in the corner of a casino in their home town, without making any kind of impression at all.
If this is an indication of the true evolution of the band, the future doesn't sound good at all. This album may keep the hardcore fans happy, but for everyone else, it's about as generic musical wallpaper as you can get.