Coal Black Mornings
by Brett Anderson

In case you don't know, music sounded better in the olden days. How you interpret 'olden' however, is down to the individual.

In recent times (yikes, nearly thirty years ago now, pop-pickers), music in the UK in the nineties certainly went through a purple, poppy patch. Indie rock, which had for many years been a necessary underground movement to remain cool and relevant, managed to emerge into the spotlight of commercial tastes, thanks to a number of bands hitting it big all at once.

The bands making the biggest waves at the time were Oasis, Blur, Pulp and a band called Suede. Collectively they spearheaded the patriotic movement known as Britpop.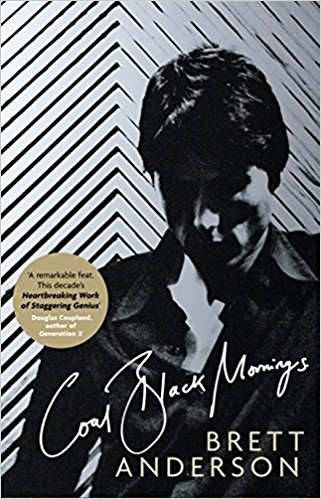 The front man of Suede is Brett Anderson, who at the time, always seemed somewhat aloof and just that little bit out of reach when compared to the full frontalism of Liam Gallagher, or pretty boy poster poser Damon Albarn. Although he didn't have his head quite as far wedged up his own rectum like Morrissey, you could imagine his days full of reading poetry and smoking sweet-scented roll-ups.
Coal Black Mornings is the singer's first foray into writing his memoirs of his and his band's contribution to a movement that took the world both by surprise and by storm.
It's clear within the very few lines of the opening chapter that Anderson is a skilled writer. This memoir has a dark beauty about it, and often feels it's being narrated by a fictional protagonist, as if Nick Hornby has written about a posh pop star and his rise fame.
Much of the book feels devoted to the early years, as the singer delves into his family life and his clear devotion to both his parents. It is brutally honest, as is the book in general, as he creates a fully focused family portrait, revealing warts and all. But it's in this harshest of lights that you get a true sense of the man; if you ever thought of him as being a tad pretentious and stuck-up, then this book may help to put him in a softer light.
One of the main elements it lacks however, is humour; honesty can go a long way, but humour will get you there a whole lot faster. Plus, it's difficult to comprehend that the star could have gone through all of Britpop without any amusing anecdotes.
And that's another obvious omission. There are no other stories of life on the road with other bands, getting up to no good on Top of the Pops, or embarrassing tales with obsessive fans. In fact if Anderson didn't occasionally remind you that he was in a band called Suede, there are no other indications that he had indeed been in one of the biggest bands at the time.
But then this is about as far away from a rock 'n' roll kiss 'n' tell book; it is very much an old school memoir, told with a candid and revealing insight, with the prose of a gifted writer.
If you were a fan of the band, then this is a must. But if you also enjoy an artist truly embracing the meaning of a memoir, Coal Black Mornings is a fascinating read that may well have you rifling through your music archive under 'S', to complete the picture.