Viva La Vida
by Coldplay

Eight years ago, Coldplay released their debut album Parachutes. It was a remarkable collection of songs that just seemed to jingle and jangle in the right places. Chris Martinís vocals resonated heartfelt emotion track after track. It was obvious then that the band were destined for something... bigger.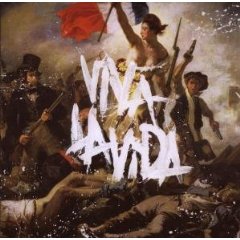 Viva La Vida is certainly that. Itís their fourth long player, and for a band that always comes across as playful but always humble, there are troubling signs of cockiness. You donít have to wait long for it either, with the opening track Life In Technicolor popping out with various noises, topped up with Martin letting out a sort of vocal roar over the top of it and... nothing. Track one equals an instrumental. Who the hell do Coldplay now think they are? Itís at best good enough for a B-side (what is the modern equivalent of that now?), but to kick off an album with? Big mistake. Sadly, it doesnít get any better.
By the time we get to Yes, Chris Martin either does a really bad Bob Dylan impression, or his voice just breaks there and then. The first single Violet Hill was what we all feared Ė a fair indication of what was to come. It could quite easily be the worst Coldplay single ever Ė although the number one Ďhití Viva la Vida could also contest that crown. The first sign of a band struggling for ideas is when you hear an orchestra prominently in the background - check; this is usually followed by a track or two featuring a gospel choir. Coldplay fall short of that Ė just, but we shouldnít be surprised if they turn up on the fifth album.
The bandís followers have stuck with them over the years, even armed with the fact that they were getting progressively blander and wetter with each album. Who knows, maybe one day they will remember where they came from and how they started, and then perhaps make real music again.