Random Access Memories
by Daft Punk

Question: who the hell is buying Random Access Memories? The answer appears to be almost everyone. But they don't just seem to be buying the album, but, probably more importantly, into the French duo behind it.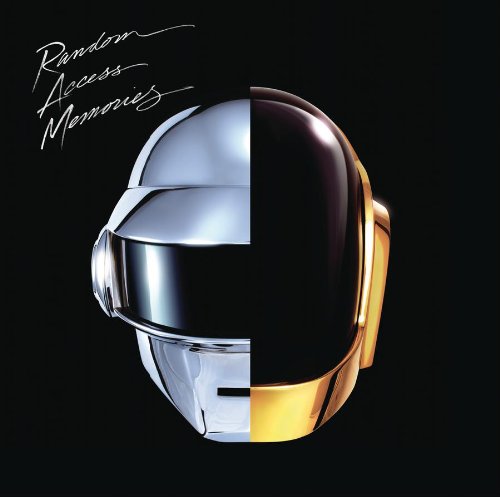 The stunning and impressive fact of the matter is, is that this album, which is only the fourth studio album by Guy-Manuel de Homem-Christo and Thomas Bangalter, is set to become the fastest selling album of all time in the UK, snatching the title from 1997's Be Here Now by Oasis.
This success is somewhat puzzling, particularly when you consider their last album, 2010's soundtrack to the Tron Legacy film, peaked at number 39 in the UK album charts. Their last studio album proper, Human After All did make it to number 10, but was released over seven years ago in 2005.
And yet clearly many found it necessary to have this album in their mitts. But does it deserve its new-found accolade?
There's a seventies, up tempo intro to the first track on the album 'Give Life Back to Music', before the duo's trademarked electronic vocoder vocals hit in. It screams early disco as it bounces along.
The decade remains the same, although the tempo slows right down. The vocoder once again kicks in, repeating the track's title 'The Game of Love', over and over a few times. It's a dull little track that lacks any real emotion or impact.
There's something different about the next track; it begins with a man, sounding German, narrating his story that relates to making music. It sounds alarmingly like film director Werner Herzog, but did he really have a passion for disco? Hard to believe. It soon transpires that it isn't Werner after all (which in hindsight, is somewhat disappointing), but in fact electronic music pioneer, Italian Giorgio Moroder. 'Giorgio by Moroder' is part autobiography, part homage to Moroder's hugely influential style of music. It's an epic (9.05 long), sprawling love letter that comes and goes in waves, with more chat from Giorgio along the way. Giorgio is no doubt well chuffed by the effort, but it's a hard one to sit down and listen to on a regular basis. It's a forced music lesson on the life of Moroder that just goes on for too long. It's reminiscent of some of the musical themes they touched on with Tron Legacy, and to that end, would probably work well on a soundtrack, but is just too bloated for a commercial album. Or so you would think.
Tickling the ivories on 'Within' is Chilly Gonzales. Again, more vocoder trying desperately to imbue some kind of passion in a balled and failing miserably.
With the arrival of 'Instant Crush' comes the vocals of Julian Casablancas from The Strokes. But this being Daft Punk, it's electronically strangled. Still, it works on the more upbeat numbers.
'Lose Yourself to Dance' is the first of two tracks to feature Pharrell Williams on vocals. It's refreshing to hear an actual, straightforward singing voice, it's just a shame it props up a relatively bland track.
There's an ethereal start to 'Touch'. It's a slice of space pop, if you can imagine such a thing, but not that modern space pop noise but that seventies sound all the kids loved once. Singer Paul Williams gives an emotional account of himself, albeit as if he were performing in some ghastly stage musical. You can almost hear the sparkle and glitter. It's definitely a performance piece, which weighs in at just over eight minutes long. If you can make it all the way through it without trying to rip your own ears off, you've done particularly well.
And then the dire, dank mist clears as Pharrell Williams returns once more to save the day with the single 'Get Lucky'. It's a shot in the arm the album desperately needed, with its catchy chorus and groovy seventies groove. It's this track alone that could be behind the success of this album. The single, as many disappointed buyers will soon realise, is not indicative of this album however. If only. Caveat emptor.
It's a hard track to follow, and the intro to 'Beyond' does well, with its bold and brassy orchestral intro. And then the vocoder stuff lets it all down.
The popular saying vocoder silence is golden is proven with the pleasing instrumental 'Motherboard'. Again, it has elements that could have come from the Tron Legacy album which is certainly no bad thing.
A more easy listening vibe arrives with 'Fragments of Time'. It features the vocal warbling of Todd Edwards, who doesn't have the strongest of vocals, but you'll take it over a talking computer any day of the week.
'Doin' it Right' kicks off with a repetitive vocoder riff, but is soon joined by vocals supplied by Panda Bear (aka Noah Lennox). It's on the infectious side, in a pleasing way. Part of this may be down to the excitement that the end is nigh however.
Talking of which: 'Contact'. It's another space themed track, with an astronaut chatting away in space. Then out of nowhere it all gets a little dramatic in a Hammond organ, Phantom of the Opera kind of way. There's a sense of peril in the air, ushered along by some damn fine beats. It has an urgency lacking elsewhere and serves as a decent end to a real mixed bag.
Having listened to this album far many times than humanly possible, it's still difficult to see how it's shifting so many copies. As mentioned earlier, it's not as if the band have got to this point on a huge wave of success.
The fact that they're French isn't an issue. The fact that they've made such an insipid, un-inspiring album is. If computers could have auto-pilot, this album would be it. The use of the vocoder can add a certain something, as the French probably have a saying for, that can truly lift a certain type of track, but its overuse is just tiresome. And although the human vocalists are a welcome relief, they aren't overall, all that special.
You could go into coffee house chain and this album would be the perfect soundtrack, and you couldn't be more damning than that.