End Times
by Eels

Mark Oliver Everett – aka E – has been not-so quietly going about his business for a number of years now. The huge success that came with his 1996 debut album Beautiful Freak, has seemingly dissipated over the years, but it hasn't stopped him from producing music that is just wonderful to listen to.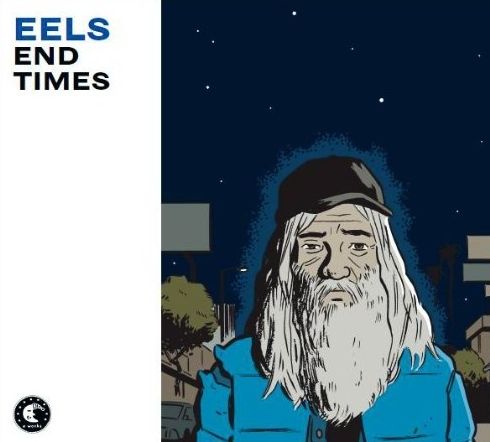 Despite well documented personal tragedy – or maybe even as a result of it, E has often worn his heart and soul on his musical sleeve (notes) whilst exploring many varied corridors of sound.
End Times, his eighth Eels album, is yet another fine example of his musical talent. It is, for the most part, stripped back to reveal a raw and ever-personal collection.
Starting at 'The Beginning', E's most prominent instrument is his melancholic vocal, as he laments over the joys the early days of love can bring, before it all goes pear-shaped.
The tempo may pick up soon enough with 'Gone Man', but the downbeat sentiment remains the same. Still, the track's so bright and breezy, you can completely miss the down-trodden-ness that lie in the lyrics, if you so wish.
The same can be said for 'Mansions of Los Feliz', which has a chirpy disposition – including a merry la-la-la-ling chorus. Meanwhile, E describes the symptoms of agoraphobia, suffering as he is in a rather inhospitable room in Los Feliz. Still, at least he sounds cheery about it. That's right E, look on the bright side and all that.
Unlike some of previous Eels albums, End Times has a more uncluttered production to it. There sounds like there are no more than three instruments at any time playing on every track. At times, this gives E an almost modern day Bob Dylan quality, particularly when he whips the old harmonica out for 'Nowadays'.
The songs don't hang about much either, with the average length of each track around three minutes long. This guarantees that they don't hang around too long, allowing you to become friendly with them, without becoming over-familiar.
Huge commercial success may never knock on E's door again, but that's ok – well, for us at least. As long as musicians such as hE are given the freedom to produce interesting personal projects, the Simon Cowell's of this world won't get their way entirely. And that can only be a good thing.