Build A Rocket Boys!
by Elbow

It's difficult to hate a band like Elbow. Not only is front man Guy Garvey a thoroughly decent chap, the band have the ability to produce a supremely beautiful brand of music, when they see fit.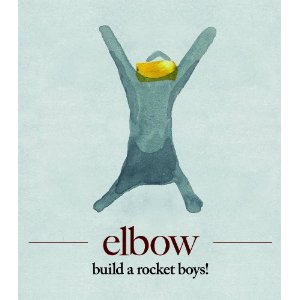 What you can feel, more often than not, is a real pang of disappointment. When they get it right, boy do they hit all the right notes. But what this fifth album proves is that when they're not quite on their game, the results are certainly mixed.
Their last album The Seldom Seen Kid, which followed the rather disappointing Leaders of the Free World, was crack cocaine for the ears; it was just track after track of highs.
Build a Rocket Boys! doesn't feel anywhere near as cohesive. It frequently hints at a far big picture, without actually delivering the goods.
'The Birds' is certainly a heavy-hitter to start the album with, weighing in at a hefty 8 minutes in length. The problem with these longer tracks is, well, they do drag on. You can see that they were huge fans of Peter Gabriel during his time in Genesis – an influence they've admitted to, rightly or wrongly – and this track in particular draws on that fact. It just takes so long to get going.
There's something delightfully playful with 'Lippy Kids'. Garvey's wearing his rose-tinted glasses, reminiscing about days gone by for youths in a more seemingly innocent time. A choir gently hums in nostalgic agreement throughout. It's warm, but lacks direction.
'With Love' is one of the rare up tempo numbers that live here. Again a choir participates; thankfully it's not a clichéd gospel number, but a very noticeable local youth choir, who appear quite often throughout the whole album. It proves that Elbow are more than capable of showing a lighter side to life.
Their other cited influence, Radiohead, is clearly evident with the single 'Neat Little Rows', with a guitar riff straight out of Jonny Greenwood's songbook. It's a grower of a song, but as it turns out, is also one of the highlights of the album.
There's something that little bit more intimate with 'Jesus is a Rochdale Girl'. Perhaps it's the clarity of Garvey's vocals that aren't swamped by a swirling bed of orchestration as often happens. It's delicate and fragile, making it trademark Elbow. But with a little else going on, it's not the type of track you could listen to over and over again.
Elaine Paige. That's who we could also hear singing 'The Night Will Also Win'. It would work on the London stage (Or even out in the boons perhaps), but it just lacks the usual Elbow sophistication. If we wanted to see a musical would go and see...OK, we'd just stay at home because we bloody hate musicals we do. Please Elbow, don't cry for Argentina or any such musical song ever again.
Although we can appreciate what the band were attempting with 'High Ideals', it just doesn't make for a pleasant audio experience. There's a nice Mexican lilt in there which would have been interesting to explore further, but like the track as a whole, it doesn't amount to much.
It's difficult to get excited about the next track 'The River' either. It just doesn't have that much going on, and again is a too theatrical for its own good.
There's a little bit more oomph with 'Open Arms', but it's all a little Elbow-by-numbers. Guy does his usual bit of storytelling before the choir chirps in here and there. It even builds to a bit of a crescendo ending, but it just doesn't grab you.
Then there's a wee reprise of 'The Birds', sung rather sweetly by a passing piano tuner.
The end is certainly nigh with 'Dear Friends'. Again it lacks that emotional impact that the band are more than capable of delivering, just not on this album sadly. It feels a little disjointed as well, making it quite a bum note to end on.
Knowing that Elbow can produce the type of music to truly move someone, makes this just a greater disappointment. It's not as raw and often just dawdles along. Compared to the band at their best, this effort is most definitely patchy. Even at its best, it's not the type of album to have your heart on puppet strings, tugging along.
They can do better. And inevitably they will. Until then, move along, there's nothing much here of interest to listen to.