Ceremonials
by Florence + The Machine

In 2009 Florence and her music fuelled machine released their debut album Lungs. It made quite an impression for a first album, hitting the UK album number one spot in considerable style, as well as going quadruple platinum.

The album was full of anthems that were laced with the powerhouse voice of Flo throughout. This lethal combination soon found the band hitting the ground running, as they appeared high on the bill on the festival circuit everywhere. In short, it was a most impressive arrival.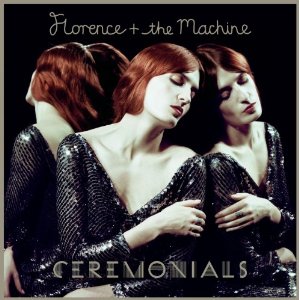 There's a volume in scope about 'Only if for a Night' that sounds vaguely familiar, in a Flo+Machine way, but also slightly different. Maybe it's the fact that Florence Welch's vocals seem to be lost somewhat in the production, which is unusual considering the super power of her voice. It's not the most impressive way to start an album.
The single 'Shake it Out' is next, continuing a tribal theme that seems to be seeping out from this album. It feels that Flo would lift little Simba to the skies on a Serengeti plain in the video. There was clearly deep –rooted theatrics throughout Lungs, but this is all a bit too Andrew Lloyd-Webber.
The menacing intro to 'What the Water Gave Me' is a bit more promising. The rhythm begins to build towards something quite explosive, but just pulls back like one of those annoying sneezes that never quite happens. When it does finally explode, it's a bit of a disappointment. In places it sounds like All About Eve could have reformed without telling anyone.
Did someone order a power ballad? Your luck is in with 'Never Let me Go'. It's nothing special though; in fact it's plain dreary.
It gets worse with 'Breaking Down'. Its intro gives the impression of a Christmas single. Not a good sign. Flo's vocals get washed out too, in a jingly jangly nightmare of sound. It's Flo+Machine does ELO.
There's a gospel vibe about 'Lover to Lover' that is quite enjoyable – until the chorus. Yet again it sounds like a track off of a soundtrack to a stage production of an average West End musical. Florence sounds as if she attempting to be a soul diva, but failing embarrassingly.
There's a reverend start to 'No Light, No Light' that signals the arrival of the Florence we want to hear. It's dramatic in every way, and impresses on all levels. But maybe it's just the harp pulling all the right strings. It took a long time coming, but we finally got there.
'Seven Devils' certainly has a touch of the satanic about it with its haunting melody. It's dark, brooding and a delightful dip into more troubling musical waters. The perfect soundtrack to any human sacrifice you might have planned.
It's a trip to the jungle with 'Heartlines' with the tribal theme striking fear into your ears once again. Sadly though, it feels like a track to close a musical with; maybe one with gibbons running up and down the aisles wearing wooden masks with Flo's face etched into them. As much fun as that might sound, we'd rather sit through Cats than this.
It goes a little jungle disco with 'Spectrum', with Flo giving her substantial lungs some much needed exercise. It's unclear whether they got Rolf Harris in to do the odd Stylophone bits, but it's a nice touch of necessary quirk. When you add the drums and the strings into the mix, it's a track coming apart at the seams a tad, but is still curiously appealing.
'All This and Heaven Too' comes flying out of the traps, without actually giving much away in terms of the direction its going. It's yet another busy track, with yet more choral backing, that just doesn't do much.
Flo takes a final bow with 'Leave my Body'; once again a choir helps to stir the musical pot. It's yet another soulful track that again doesn't hit all the right notes. Flo soars vocally in places, but it's not enough to lift the track to higher ground, despite what its lyrics say.
It's obvious that Florence didn't simply want to make 'Lungs Part II', with a definite departure from what was achieved there. Where she has gone however, won't be to everyone's liking. There's less theatrics and more musical theatre, the two of which should never be confused. What's missing is the drama; the threat of a musical storm that could be unleashed at any point.
Florence has the voice to create a cracking Bond theme, but Ceremonials is sadly more The Lion King. It's more comfy and predictable, and is less appealing because of it.
She's proven she already has the voice, but after surpassing the bar with her debut, this attempt really struggles to get off the ground. Hopefully her next album will be less organic and more musically mechanical, as it's clearly where Flo and her machine work best.