A Tiny Bit Marvellous
by Dawn French

French's first novel tells the story of the Battle family – a family of four living in Pangbourne, near Reading. Mo is a child psychologist, approaching 50 and married to the mysterious Denys, who probably does something in IT. They have two teenage children: 15-year-old Peter, who prefers to be known as Oscar in homage to his idol; and 17-year-old Dora, who used to be a goth but is now an aspiring 'plastic' and X-Factor wannabe. Whilst it would be a bit of a stretch to say that the characters represent an ordinary family, even an ordinary middle class family, this is an imperfect family that it's hard not to identify with in some way.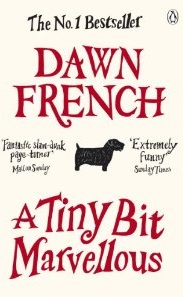 Despite appearing to be in control of everything, Mo is experiencing a bit of a mid-life crisis: she imagines herself to be the vivacious, sparkling person she used to know, but keeps catching glimpses of a somewhat drabber, greyer person when she least expects it. Even though she's a paragon of wisdom at work when it comes to developing positive relationships with younger people and helping them deal with their problems, she doesn't seem to be doing a great job of it at home: her daughter Dora simply hates her, as well as herself; and her son Peter prefers to adopt a persona inspired by Oscar Wilde, deploying flamboyant speech and dress in order to keep in character and so avoid being mistaken for plain old Peter from Pangbourne. It seems that Mo, Dora and Peter/Oscar all crave to be a tiny bit marvellous, and set about achieving this in different yet interrelated ways.
The story is told through the eyes of Mo, Peter/Oscar and Dora, each of which gets to be the protagonist for their chapters. This provides the reader with a nice range of perspectives on events befalling the family. To get into the psychoanalytic spirit of the book, this allows the reader to empathise with each of the central characters and to understand what's going on from their point of view. In this way we can forgive even the most objectionable behaviour, or at least understand it a little.
Dawn French, for those that aren't in the know, is a fairly prolific writer, comedian and actor. You might recognise her from her roles in popular TV shows from classics such as French and Saunders to more recent hits like Lark Rise to Candleford and Roger and Val Have Just Got In. French has also appeared in several films, including Harry Potter and the Prisoner of Azkaban, The Chronicles of Narnia: The Lion, The Witch and The Wardrobe and Coraline. Even though this is her first novel, she's also written an autobiography, Dear Fatty, and co-authored A Feast of French and Saunders (with Jennifer Saunders) and Frigid Women (with Sue Riches and Victoria Riches). French's voice is palpable throughout this book and, as might be expected by those already acquainted with her work, the characters are nicely observed. Much like French & Saunders' comedy in the late 1980s and early 90s, despite the book being obviously comedic and definitely satirical it isn't laugh out loud funny, but that doesn't detract from its charm.
The chapters are short, making for quick reading. But this can be quite frustrating, when you want to find out what is going on with Dora, say, but are forced to plough through Mo's take on what's happening. Although it's undoubtedly a deliberate choice, Denys' (the husband and father) relative absence throughout the book – he is given only one chapter, near the end of the book – seems awkward, since he appears to be quite active within the family unit from the other family members' narratives of events. Even if French was deliberately constructing him as a relatively forgotten but still integral part of the family, the fact that the reader knows so little about him (we don't even know for sure what he does for a living, whereas we become very familiar with Mo's work and indeed case files) makes it seem like he is simply a character that French didn't want to make room for. Another extra that we barely get to know, yet is a significant character in each member of the family's life, is Mo's mum Pamela. An explanation for the focus on just three members of the family becomes apparent – though never explicitly explained – towards the climax of the story, but the reader is left until then to feel at least slightly frustrated by this focus on Mo, Peter/Oscar and Dora.
The paperback version of this bestselling novel includes some additional features, including recipes for the cakes that Pamela bakes for each member of the family (the recipe for beetroot cake looks especially intriguing); the transcript of an interview with French about this novel and her plans for a second; a list of books, for kids and adults, that have inspired French; and points for discussion at reading groups. These are very nice touches: the icing on the cake, if you will.
Overall, this is a fine foray into fiction for French. The characters' flaws, fears and fancies and their struggle with their everyday existences makes for an occasionally gripping read, although it does feel a bit slow in places. And even though the ending is a bit too tidy, on the whole it's fair to say that this first fictional offering from French is at least a tiny bit marvellous.