Samsung Gear Fit2
activity tracker ¦ RRP £179.99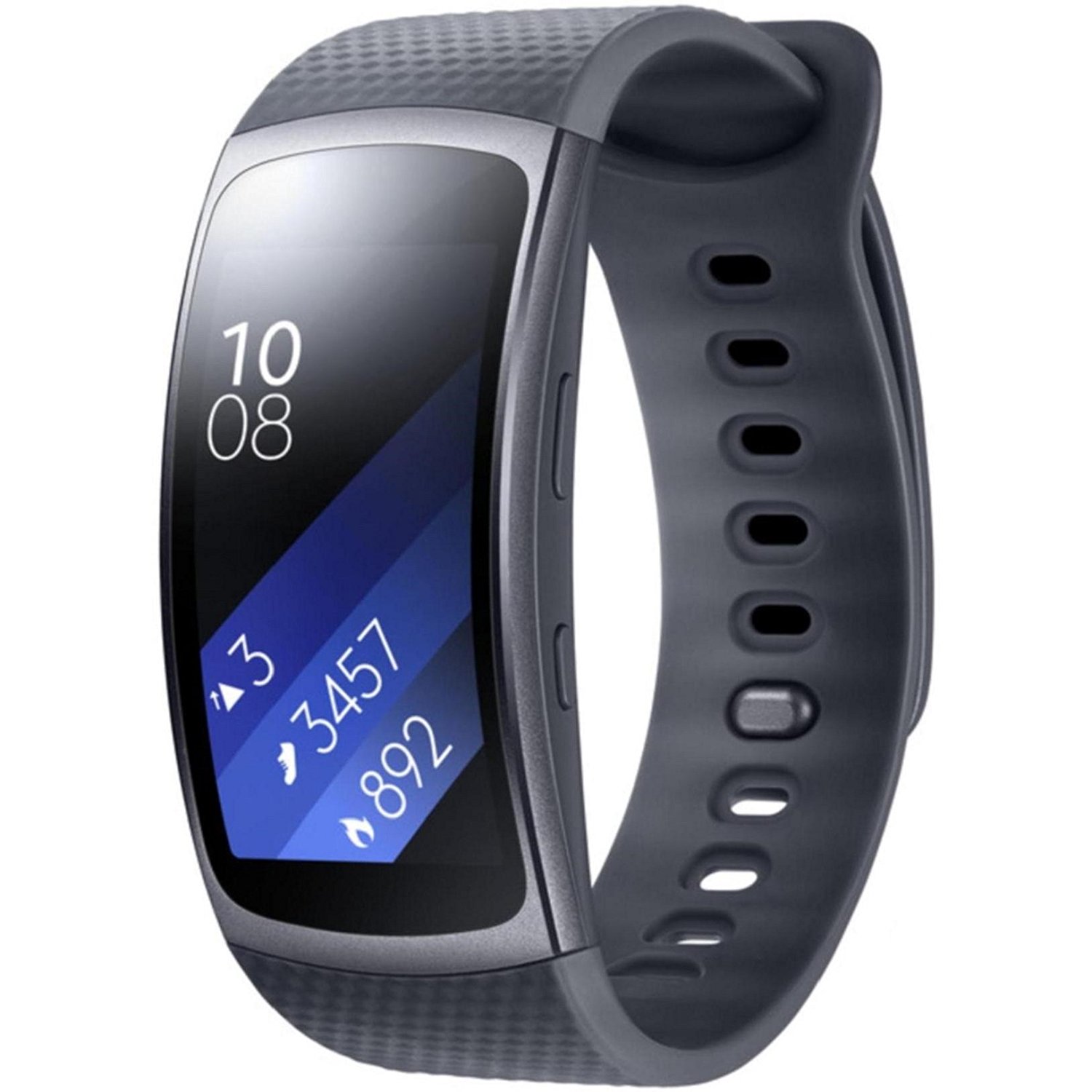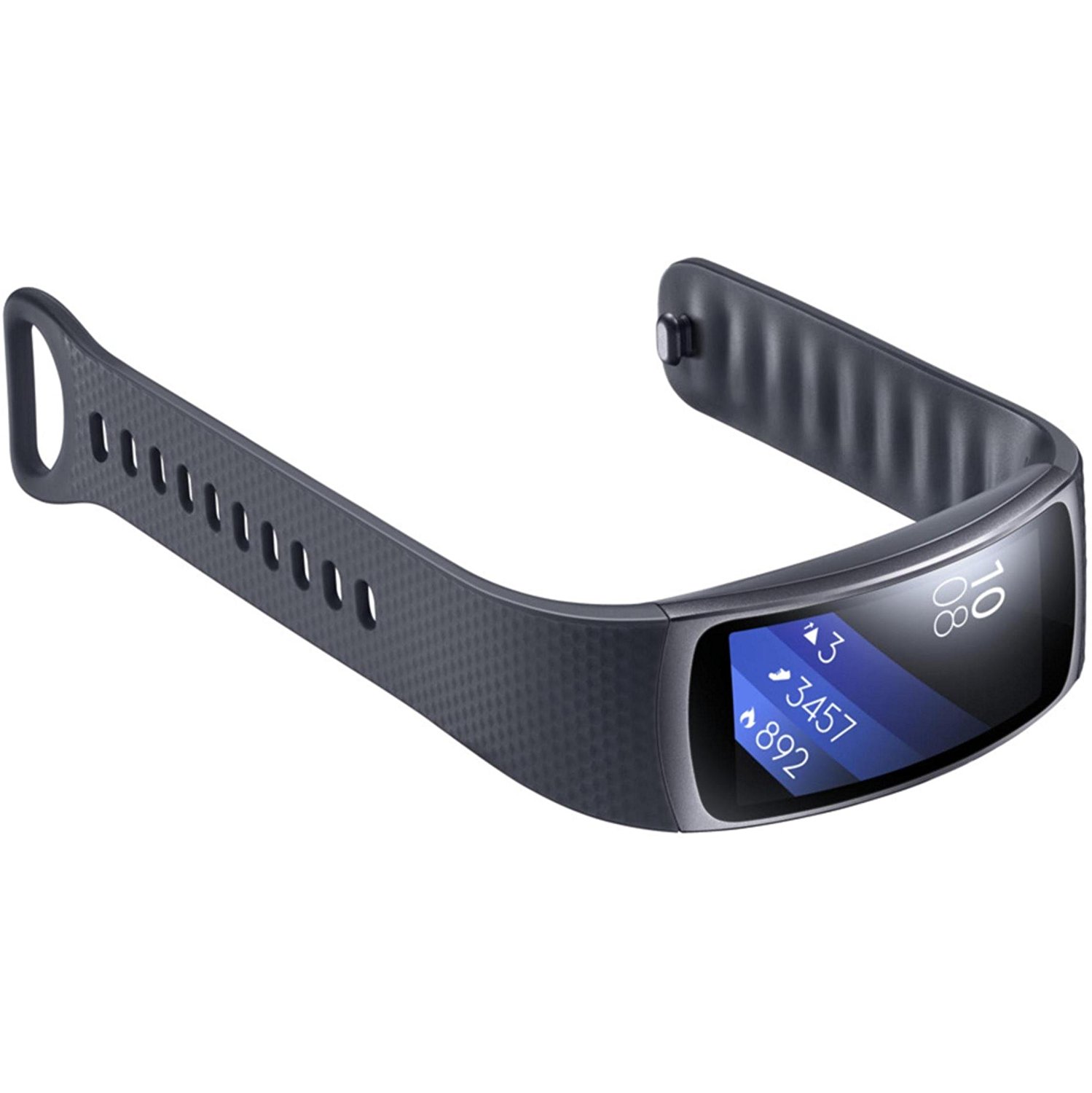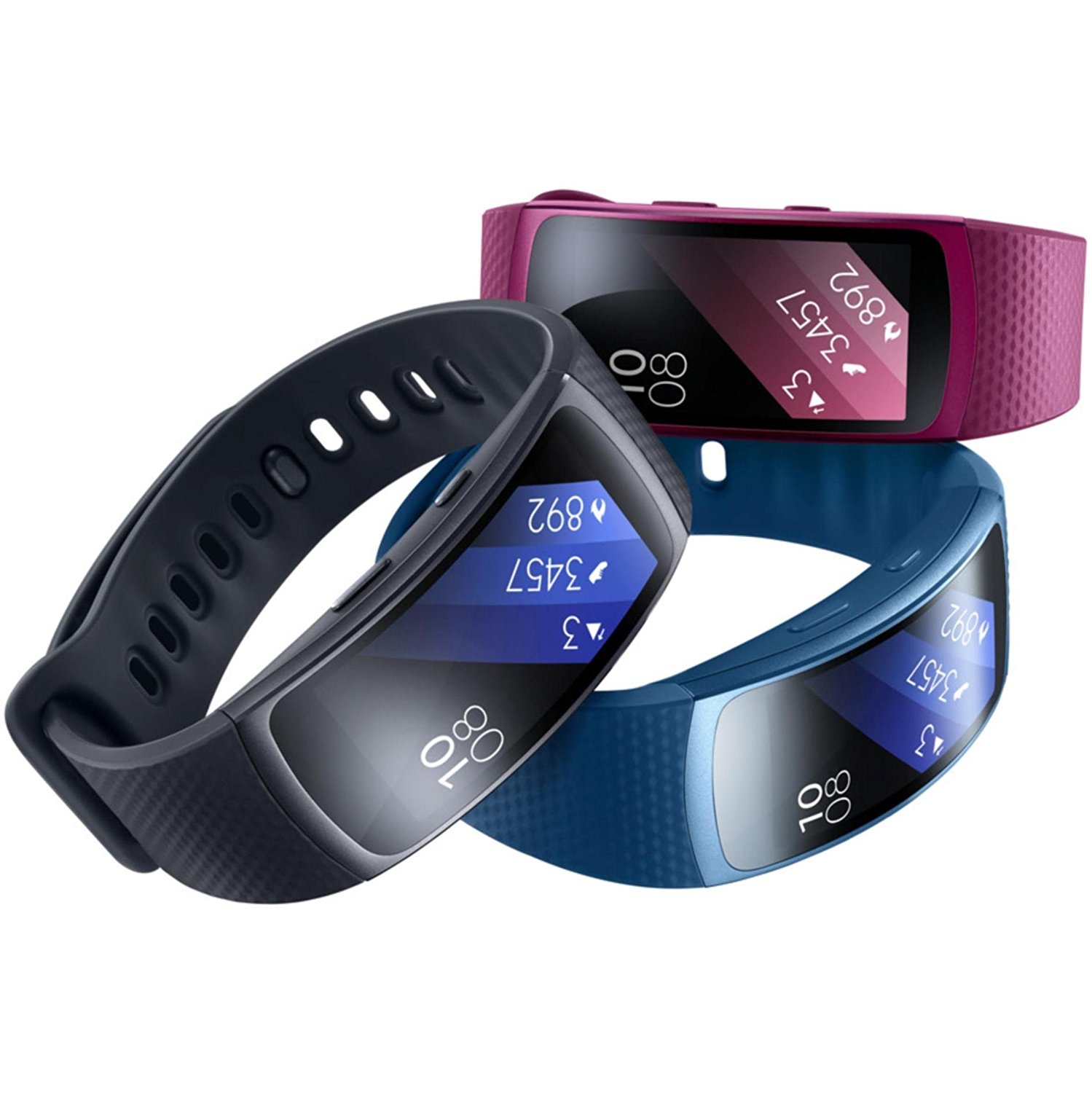 Wearables are big business right now. More and more people are sporting things that look a bit like those plastic wristbands advertising which cause you support or what you're allergic to, or the kind of futuristic digital watches Tomorrow's World promised us all those decades ago.
The Gear Fit2 is Samsung's latest wearable offering, joining its range of smart watches and activity trackers. It's available in three colours – dark grey, blue and pink – and two sizes (small and large) to suit most wrist sizes. We trialled the blue version in a large strap. It's comfortable to wear, weighing in at just 30g, but the strap is a bit fiddly to put on and it did undo itself a few times, though that's probably something you get used to with time.
It's not as chunky as some activity trackers and it's fairly visually unobtrusive, blending in well enough with office wear as well as gym kit. It's certainly very nice to look at, with its curved super AMOLED display with 16M colours and nine built-in watch faces to choose from, along with the option to download more. We left it on the default display most of the time, which has pleasing blue stripes and shows you the time, along with how many floors you've climbed, how many steps you've taken and how many calories you've burnt so far today.
It packs quite a punch – it delivers GPS tracking and can provide you with real-time stats including a map of your route on your wrist without having to access your phone. It auto-detects activities including running, cycling, working out on gym equipment and sleep. It includes a heart rate monitor, accelerometer, barometer and gyroscope and is both dust and water resistant. It also delivers on the smartphone front, providing you with instant notifications, allowing you to receive and respond to calls and texts as well as delivering calendar notifications – providing you can pair it with your phone (more on that later). Its music player allows you to store songs on the device and control playlists.
The Gear Fit2 comes with a built in 200mAh battery and sits very satisfyingly in the little dock that's provided, but if you have cats or rabbits in the house beware – the cable is very thin and borderline irresistible to those furry friends that can't resist nibbling cables.
You can view quite a lot of information on the device itself, without needing to get your smartphone out. Swipe left and you can view your notifications. Swipe right and the first screen you are presented with shows you your total calories expended so far today. If you select this by tapping it you can view the total calories not just for today but also previous days, indicating the proportion of time spent engaged in different types of activity (not on wrist, light, inactive, sleeping, other workout, walking etc). If you select an activity it shows you basic information about it: selecting a walk will show you duration, time to and from and calories, but not a map of the route which you would expect this GPS-enabled device to show you when you ask it nicely. The automatic sleep detection doesn't seem to notice when I've had a nap rather than a big long proper sleep, and it gives you an efficiency rating in percent, whatever that means.
Swipe right again and you can tell it you're about to take some exercise (well done you!). You can choose from running, walking, hiking, cycling, step machine, exercise bike, elliptical trainer, treadmill, lunges, crunches, squats, Pilates, yoga, rowing machine and 'other workout', or of course you can trust it to auto-detect what it is you're about to do. So this is perhaps ideal for the triathlete that also likes to hit the gym and has another wearable for the pool, not so much for people who do other stuff to work out.
You can also set a target duration and it tells you your longest workout that you've recorded so far, which just makes you feel bad if this isn't it. You can tell it what intensity you're planning to work out at – moderate or vigorous – and it'll vibrate at intervals of 5 minutes, 10 minutes, 30 minutes or an hour. This is a bit unnecessary when you're doing an exercise class, but could come in handy if you want to focus on a particular exercise when you're in the gym doing your own thing. When you set it to go it gives you a countdown, which seems a bit unnecessary.
A log of all the workouts you've recorded here can be viewed on the device: this gives you different information depending on the activity type you've selected, so for a walk you can find out how long you walked, for how many kilometres, how many calories you burned and what your average speed was. For the 'other workout' option all it tells you is % achieved (presumably the amount of time you did compared to how long you said you'd do), duration and calories. So if you regularly do activities that aren't in the predefined list, this might not be a level of detail that's useful to you, depending on how nerdy you want to get. Irritatingly, when standby comes on you lose where you were in the log and have to click a few times to get back in. Compared to my trusty activity tracker, which I wore at the same time as the Gear Fit2, it seems to overestimate the number of calories consumed for exercise but underestimates the total for the day, which is curious. Of course, I have no way of knowing which was correct, though it is tempting to strap on a range of other activity trackers across your body and take an average.
Swipe right again and you can marvel at the number of steps you've taken today, the average for the week, how many kilometres this all works out to and you can set a target. Swipe right again and you can view how many floors you've climbed and get a bit of feedback. Accuracy for these things may be questionable – whilst wearing the Gear Fit2 I fell asleep on the sofa one evening, woke up after midnight, pottered to the kitchen and back and then went up and down the stairs twice, then to the bathroom for night time ablutions and then bed. However, according to the device, I hadn't ascended any stairs nor walked any steps. It was on my wrist the whole time. So was my own activity tracker, which recorded everything as expected.
Swipe right again and you can view information about your heart rate. The Gear Fit2 only records your heart rate sporadically, rather than continuously as other fitness wearables with built-in optical sensors do. You can view what your heart rate was when it was taken last, the minimum and maximum recorded for the day and the range per day over the last week. It also gives you some feedback on how this measures up to a normal range. You can ask it to measure your heart rate too, you don't have to wait for it to do it when it feels like it.
The final screen allows you to add some other things you might like to measure, if those things are caffeine and water intake, which you can record the number of cups you've drunk.
Hit the button on the bottom left and you can get into some more menus. You can customise the display in more ways than you would surely ever need to, including what size and style of font you prefer. You can tell it whether you want it to vibrate. You can try and get it to connect via Bluetooth or wi-fi, or to a BT headset if you happen to have one. You can set a screen lock PIN and if you want to cut down on how often you need to charge it you can put it in power saving mode, which cuts down on the range of fancy things it does and makes the display look uglier. You can tell it your gender, date of birth, height, weight and preferred units. You can tell it whether you want it to give you nudges when you're inactive, or when it's detected you're doing some exercise, or to generally cheer you on if you're moving around, which is actually one of our favourite things about the device. You can also attempt to connect it to your phone.
Apparently, the Gear Fit2 is compatible with devices running android 4.4 or higher, with 1.5GB RAM or more. It also comes with the caveat that 'supported devices vary depending on your region, operator and device brand'. Despite having several devices about our person that met that specification, try as we might – and we devoted a lot of quality time to trying – we could not get it to communicate with any of them. You need to install a couple of apps on your smartphone and you can then invite the Gear Fit2 to pair with it via one of the menus you access via the bottom button on the device. Each time you try you have to input your pin before it tries to pair with your phone. When it almost inevitably fails, it tells you to install Samsung Gear on your phone and doesn't seem to hear you when you remind it loudly that you already tried that thank you very much, as well as a whole bunch of workarounds that the online community have suggested. Then it allows you to opt to use the Gear Fit2 without a phone connection – and thank goodness you can – after which it makes you confirm the language, agree to the end user agreement and privacy policy and set a pin. Again. Then confirm the date and time. Every time you want to try to pair the device with your phone – after you read another convincing sounding suggestion as to how to make this magic happen online – you have to go through the same rigmarole. Eventually you give up and realise that you will never be able to do all those cool things like receive notifications about calls, texts and what's going on in your diary.
Overall, it's a smart watch that looks smart but doesn't act it when pairing with your phone (other than a Samsung brand, presumably) and the kind of things it measures and what it tells you about it. It didn't turn our head sufficiently to give up our own trusty smart watch, but it is easy on the eye and might be just the thing you're looking for if you're a gym bunny sporting the latest Samsung smartphone.