Plastic Beach
by Gorillaz

As most people know, making cartoons takes ages to do, what with all that drawing and colouring in and that. Just imagine then, how long it would take to make cartoons making music? No wonder the animated quartet of 2D, Murdoc, Noodle and Russel Hobbs have spent five years following up on their success of Demon Days.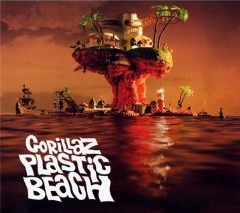 As with their last two efforts, the Gorillaz love to collaborate. Over sixteen tracks, and nearly an hour's worth of tunes, you can hear the likes of Snoop Dog, Bobby Womack, Mos Def, Gruff Rhys, and Lou Reed, all helping out on vocal duties for these musical primatez.
Taking a tour of Plastic Beach, you'll soon discover the varied musical landscapes are constantly warmed by the hanging electro-sun, shining down on one and all. As with all Gorillaz albums, it's the diversity of sounds and vocal talents that they use that really makes the concept work. It all helps to differentiate it from just being a Damon Albarn project. That said, his contributions, vocally at least, are a pleasant addition.
After a pleasing orchestral introduction, courtesy of Sinfonia ViVA, the first track 'Welcome to the World of Plastic Beach', kicks in. It features the unmistakeable tones of Snoop Dog, and is very much a taste of things to come.
Just as the you start to warm to the beats that are flowing in your direction, The Lebanese National Orchestra for Oriental Arabic Music strikes up the band for an impressive intro to 'White Flag', also featuring Bashy and Kano. It develops into an infectious rap that young Dizzee Rascal usually wraps his articulate lungs around.
'Rhinestone Eyes', featuring Mr Albarn, starts off rather lamely, but a minute or so in, it begins to build into a wicked whirlwind of a track that sucks you in regardless, simply getting better and better the longer it goes on.
And only the Gorillaz could pull together unusual collaborations and make them shine. 'Superfast Jellyfish' has De La Soul and the Super Furry Gruff Rhys sharing the musical spotlight; on paper it shouldn't really work, but when those Gorillaz get their chubby mitts on them both, they just naturally gel.
What at first appears to be one of the few bum tracks of the album, 'Empire Ants' is another song that misleads, going through a musical chrysalis that starts off with Albarn on vocals, then transforms beautifully into something else, featuring Little Dragon.
Lou Reed pops up on 'Some Kind of Nature', sounding a little bit like Johnny Cash, but that's no bad thing.
'To Binge', featuring Little Dragon once again, has a distant echo of something like an old fashion duet akin to 'Something Stupid', all against a sparkly, electro background.
Before you know it, near on sixty minutes have almost past, as 'Pirate Jet' takes Plastic Beach off to other horizons, leaving behind a sky trail of loveliness.
Plastic Beach is a collection of musical postcards, all stamped with the words "wish you were here". As experiments in sound go, it's a bold one; and yet all its separate parts make an elegant, swellegant whole.
If it takes another five years before the Gorillaz descend upon us once again, then so be it; some things really are worth waiting for.