Semicircle
by The Go! Team

Some people just aren't team players. To us, the idea of being part of a gang and indulging in some communal exercise makes us want to break every single bone in our bodies, just to make sure it physically can't happen.

There are probably only two exceptions where we'd invite the possibility of signing up to an organisation of sorts: to be Ghostbusters, or to be members of The Go! Team.

Not that we'd be much use to either; our paranormal skills are limited to just saying 'boo' to ghosts, and our music skill set is just one notch below that of Jedward's.

But there's something rather triumphant about this six-piece band from Brighton in general, and their fifth studio album Semicircle in particular. Something that makes you almost want to belong. Almost.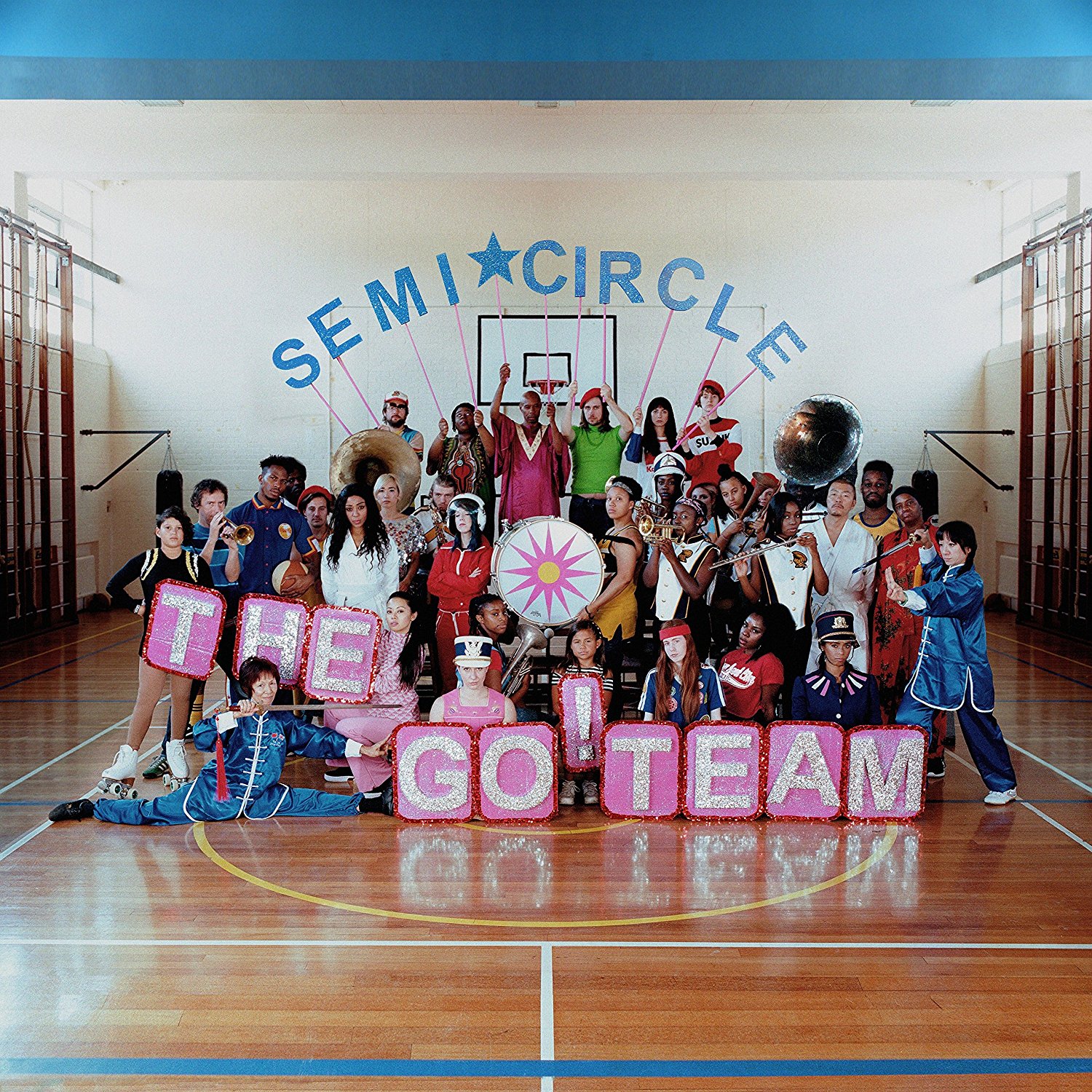 'Mayday', the first single to 'drop' from the album, is an energetic ball of happening. It's fuelled by the brassiest of bands, accompanied by perky cheerleaders, making you wonder where did you leave your pom poms last? If you can do a high kick, now's the time to do so. It's bold and beautifully brassy.
Taking it down a notch is 'Chain Link Fence'. Its gentle melody has a whiff of J-pop about it, as does the whole album. Its breezy cheeriness is infectious to the max.
The horn section raise their glorious instruments to the skies once more for the Semicircle Song. If you can do the splits, now would be a good time. If not, sit back, relax, and just feel the smile spread all over your face.
There's a lot going on in the short amount of time that 'Hey!' hangs around. If you listen to the production, you may well be able to hear someone on the kitchen sink. Nice.
Just as busy in the production area is the not-so-catchy titled 'The Answer's No – Now What's the Question?'. Thankfully the pace isn't so breakneck, but it's just as upbeat as everything else here, tinged with a seventies guitar vibe.
That retro flavour continues with 'Chico's Radical Decade'; a floral instrumental that is the musical equivalent to being barefoot and feeling the grass beneath your feet. It could also have been the theme tune to a seventies TV show featuring a female cop who usually let her suspects go, because she just knew they had good hearts. Needless to say, it only lasted one series.
'All the Way Live' continues the J-pop feeling, with girly vocals talking over a band with all their bits and pieces going, giving all they've got.