Her Fearful Symmetry
by Audrey Niffenegger

It's fair to say that Niffenegger's debut novel, The Time Traveller's Wife, was a tough act to follow – but she's gone and done it again in Her Fearful Symmetry. It's clever, surprising, gripping, funny, sad and disturbing in equal measure.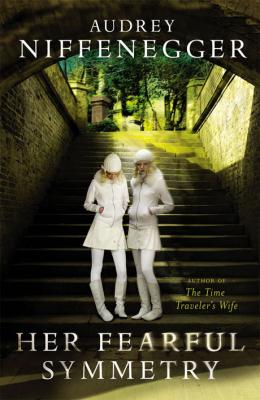 The story centres on Elspeth. She's a woman in her forties; a trader in antique and collectible books; a resident in a block of flats adjacent to Highgate cemetery; a partner to Robert, her downstairs neighbour, who is writing his PhD thesis on the cemetery and volunteers there as a tour guide; a twin estranged from her identical sister; a leukaemia sufferer; and, after the first chapter, a ghost.
Elspeth's death devastates Robert and sets off a chain of events. Her upstairs neighbours, a couple, split up. Robert becomes dysfunctional and spends more and more time in Elspeth's family crypt, talking to her coffin. Elspeth wreaks a kind of revenge on her estranged twin – who emigrated twenty-one years ago across the pond to America when she was pregnant with twins – from beyond the grave. Elspeth's revenge is cunning: she leaves her entire estate – minus a few personal bits and bobs – to the twin nieces she'd almost never met, on the proviso that they live in her London flat for a year and that their parents (Elspeth's twin and her husband) never visit them there.
Immediately following their twenty-first birthdays, the younger twins – Julia and Valentina – take the aunt they never knew up on her offer and leave their home, their country and their continent.
The move precipitates a newly tumultuous period in the twins' relationship with each other; Valentina tries to become independent of her controlling sister, with extraordinary consequences. The twins eventually get to know their estranged aunt through the medium of automatic writing and an improvised Ouija board, whenever Elspeth manages to leave her favoured haunt, a locked drawer in her desk that she'd never been able to open in life.
Niffenegger skilfully lays a trail of clues that can lure the reader into a false sense of assuming they know what's going to happen, only to suddenly throw in a smattering of surprising twists and turns to keep us on our toes. Here, as with her first book, Niffenegger establishes herself as a master storyteller of mind-bending relationships. We're introduced to a bunch of people, living and dead, that Elspeth has affected in both this life and the next. None of the characters is uniformly likeable; much like the rest of us in the less unreal world, they have their good days and their bad.
We're also brought up to speed on the mystery and the history of Highgate Cemetery, a history so fascinating it's easy to understand why Niffenegger used it as the backdrop for this story. Niffenegger's portrayal of the cemetery and of London is all the more remarkable considering she is an American herself. It's a nice touch that the author finishes the book with an invitation to the reader to make a donation (fiscal, rather than corporeal) to one of London's most notable of cemeteries.
One of the many reasons this book is a brilliant read is its invitation to readjust our ideas about the interrelationship of this world and the next, in a way that is faintly reminiscent of Douglas Adams' portrayal of ghostly goings-on in Dirk Gently's Holistic Detective Agency. On reflection it seems fitting that Neil Gaiman is amongst those that Niffenegger thanks at the end of the book; fans of Gaiman's dark, clever and twisty tales won't be disappointed with this offering from Niffenegger.
This is little short of a perfect story; it would be one thing to write a ghost story or a romance, but Niffenegger applies her creative genius to blend the two with such subtlety that neither overpowers the other. Even the title is brilliant; you appreciate it most after the story has unfolded, at the very end. It's surely a candidate for being adapted for the silver screen, and might be even better suited to it than The Time Traveller's Wife was.
All told, Her Fearful Symmetry is an unmissable tale that will haunt you long after you finish the book.