Horrible Histories series 5 DVD competition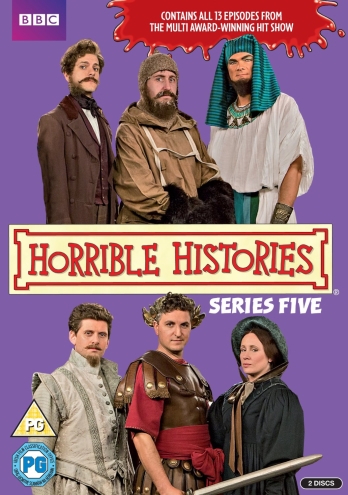 *** THIS COMPETITION HAS NOW CLOSED ***
To celebrate the release of the hugely popular Horrible Histories (series 5), we've got 3 copies on DVD to be won, courtesy of BBC Worldwide. Closing date: 14th November 2013.
About Horrible Histories series 5:
Based on the best-selling books for kids (and for adults, but they just won't admit it), Horrible Histories is an energetic, surprising and unconventional take on history's most gruesome, unpleasant yet funniest moments.
From the Woeful World War Two, the Frightful First World War, the measly Middle Ages and the savage Stone Age to groovy Greeks, rotten Romans, vicious Vikings and awful Egyptians, history has never been so naughty. These are the stories from history that your mischievous uncle told you about; the gory, smelly bits that your teacher wouldn't approve of. Get ready for the funniest, fastest, nastiest and daftest ride through history you're ever likely to see.
For your chance to win, correctly answer the following question:
Matthew Baynton, who can also currently be seen opposite James Corden in The Wrong Mans, has actually appeared in a Clint Eastwood film, albeit in a bit part. What was it called?
Best of luck.
Terms & Conditions
1. This competition is only open to UK residents, excluding BOOM's friends and family and anyone else directly associated with this promotion.
2. The first three names drawn will receive a copy of Horrible Histories series 5 on DVD.
3. One entry per person - and yes, we will check. If we find that you have entered multiple times, we will disqualify you from this competition. Repeat offenders will be disqualified from entering future competitions. And we don't like robots, so we investigate multiple entries and entries suspected as being from robots will be deleted.
4. Closing date for entries is midnight on 14th November 2013.
5. Winners will be notified within 7 days by email. If a winner does not respond with their posting details 7 days after we sent them the initial notification email, their prize will be offered to another person following a subsequent further draw. This process will repeat until somebody responds and tells us where to send the prize. If you're entering, please do remember to check your emails!