Born To Die
by Lana Del Rey

And as if by magic, Lana Del Rey suddenly popped up on everyone's musical radar. Coming from relative obscurity, Lana (real name Elizabeth Grant) has instantly shot to fame through her song 'Video Games'. This is probably due to the fact that hardcore gamers have seen through the flimsy facade of the song's so-called meaning regarding a relationship treading water, and understood its subtext which relates to the thrill of killing noobs while camping during Call of Duty: Modern Warfare 3.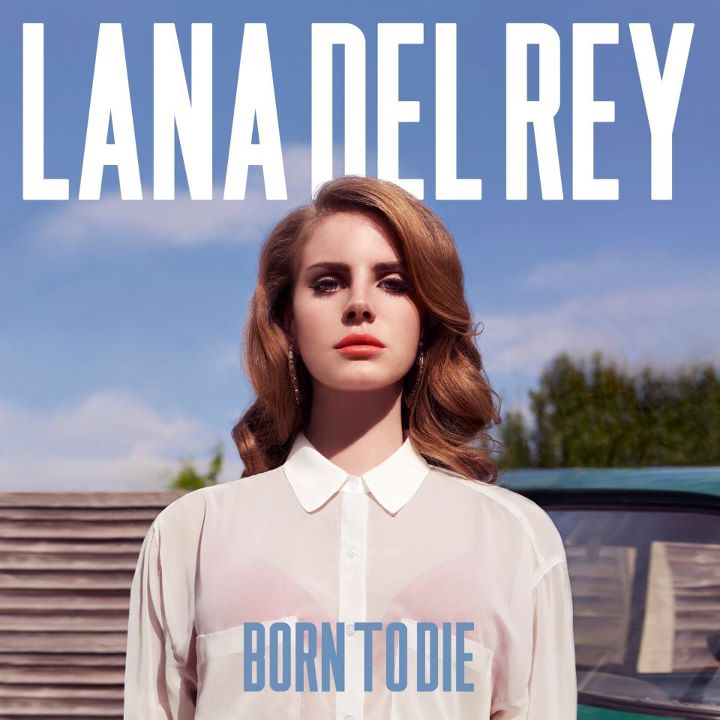 That song alone has propelled her onto many a 'one to watch list' for 2012. The follow up song 'Born to Die' follows in a similar vein; low vocals delivered in a storytelling fashion. The album however, may surprise and possibly disappoint fans of both songs, as it's a far more eclectic gathering of styles.
The strings intro to 'Born to Die' certainly reinforces the theatrical feel to both singles. It's a seductive vocal style that imbues the seductive power of a siren. It's the kind of song that you wouldn't expect would get under your skin, but after only the second hearing you'll soon find yourself utterly hooked.
The string arrangement hangs around for 'Off to the Races', but it's the only thing that remains in style. Del Rey's vocals gets considerably higher - positively squeaky even for the chorus – with an altogether more urban vibe with a pop-filled centre. It's an intriguing shift in musical styles, but it still somehow manages to work.
'Blue Jeans' is a slow burner, again mixing deep and lower vocals. The song feels as if Chris Isaac's 'Wicked Game' has been raped by 'Falling', the theme tune to Twin Peaks featuring the vocals of Julee Cruise. And yes, it's just the curious a mix as that sounds.
And then 'Video Games' arrives. It's a sublime track that is as haunting as it is beautiful. It goes completely against the current trend of vacuous pop pap, so it's encouraging that a song like this can still make an impact.
Then popping up at the other end of the musical spectrum is 'Diet Mountain Dew'. It's an up tempo number on a bed of twangy guitars with a driving beat. It doesn't sound like product placement, but it could be embedded so deep that you wouldn't necessarily feel a sudden thirst come on. It may well be poppy, but there's still something pleasingly off-kilter about it.
t.A.T.u. That's who it sounds like is singing 'National Anthem' That's right, that female Russian duo who had a massive hit with the infectious 'All The Things She Said'. It includes a catchy rap that can't be taken seriously – like most raps.
The mood slows down for 'Dark Paradise'. Here Del Rey manages to sound eerily like Sophie Ellis-Bextor singing an entry to the Eurovision Song Contest. Not one of the really bad ones either: one of the better ones, for sure, but not completely bonkers enough to win the thing. Yeah, really kinda catchy.
The Lana with the deeper voice returns for the intro for the next track. But then there's a sweet chorus that pours itself over proceedings – yes, as the lyrics suggest "sweet like cinnamon". There's an edginess to the rest of the lyrical content however that belies its pop exterior.
'Carmen' once again ups the theatrical scale, as Del Rey tells the story of the song's titular character. It has the kind of drama you would associate with a Bond theme. She even sings in French in it ,just to sex it up a bit more. It works.
As torch songs go, you don't get them any more lamentable than 'Million Dollar Man'. Whomever Del Rey is singing about it's clear he's no Steve Austin, but it doesn't stop the fact that her heart is aching so. Not only do her vocals tell us this, but also the swirling strings that convey broken hearts with every pluck.
There's a nice line on vocal delivery on 'Summertime Sadness' that shows off the singer's unique talent. The song contorts the rhythm in an interesting fashion, as the lyrics stutter curiously. It loses its shape towards the end, but still manages to prove its point.
And as the spotlight slowly dims, Del Rey closes with 'This is What Makes us Girls'. It has a disappointing chorus that wouldn't look out of place in a euro song, perhaps sang by t.A.T.u again. Its a shame as either side of it she attempts to convey an interesting tale.
Although not quite a debut – she released an album entitled Lana Del Ray (sic) AKA Lizzy Grant in 2010 – it's clearly a great platform for the singer to re-invent herself on. It's a diverse album that showcases an intriguing new talent that will no doubt continue to divide opinion.
She recently came under some criticism for her live appearance on Saturday Night Live, including a not-so-nice tweet from Juliette Lewis about Del Rey's vocals ("Hey there Pot, I'm Juliette Kettle, how you doin'?"). In fairness, it wasn't that bad a performance, particularly when you compare it to a woeful live turn on a recent Jonathan Ross show. But maybe live just isn't her bag.
Considering the state of the charts, Del Rey is just the kind of shot in the arm – for better or worse – that the music industry so desperately needs right now. Even if she simply acts as a refreshing alternative to the likes of Gaga, Rihanna and co.