Heligoland
by Massive Attack

When it comes to producing albums, Bristol collective Massive Attack like to take their sweet time about it. Heligoland is only their fifth studio album in a career spanning 22 years. But like the adage goes, it's quality, not quantity.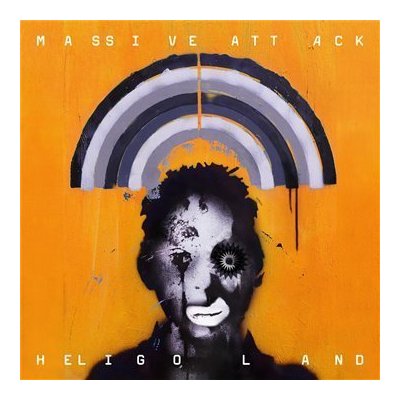 One of the main elements that helps keep much of what the band do fresh is how they mix it up with guest vocalists. Heligoland is no exception.
Setting the tone just nicely, thank you very much, is the opening track 'Pray for Rain', featuring the dulcet tones of TV on the Radio's vocalist Tunde Adebimpe. It's a methodical, slow tempo number that almost fades out halfway out, it's that darn cool. Adebimpe's vocals prove yet again that when it comes to distinctive singers, Massive Attack know how to pick them. The only problem with it is that it may well be a call for the dead to walk the earth again so if that does happen, you have been warned.
The highly-distinctive vocals of Martina Topley-Bird grace the track 'Babel' and 'Psyche'. Her appearance on an album like this is a no-brainer really, especially when you consider her Tricky connection. Babel has more than a touch of the Radiohead about it; it's the kind of noise Thom Yorke and the lads make when they're in their twiddling knobs mood.
With 'Pysche', her voice is juxtaposed against a rhythm that chugs along like an anxious train ride, destination unknown. Its repetition cries out for a derailing, but it never materialises. Those of a nervous disposition may want to skip this one.
Massive Attack regular Horace Andy muscles in on the action on a number of tracks; the downbeat 'Splitting the Atom' and the slightly more upbeat 'Girl I Love You'. It wouldn't be quite the same without him.
Someone who you would expect to be a perfect marriage with the band is Elbow's Guy Harvie. Sadly the track he features on 'Flat of the Blade' is just too busy on the production side to do Harvie's vocals any justice. The beat they've bedded his vocals on has an irritating digital phone ringing quality, which acts as too much of a distraction to enjoy.
Damon Albarn fares better with the trippy 'When Saturday Comes'; a track that, in all honesty, wouldn't look that out of place on a Gorillaz album.
Considering the seven year gap since 100th Window, Massive attack have pretty much picked up from where they left off. Their sound hasn't exactly progressed or mutated in any way, but at least you always know what to expect.
Of course, they're always lucky enough to have interesting vocal talent get involved, which gives the illusion of fresh blood at least. But as a band, there's a slight sense that they're not really pushing themselves in any direction.
Despite bringing nothing new to the table, Heligoland is a fine addition to the trippy world of Massive Attack.