Michael
by Michael Jackson

The king of pop is dead, long live the king? It was inevitable that there would be a cash-in on Michael Jackson's death. This release has already courted controversy, with members of his family miffed that they weren't allowed anywhere near it during its production, as well as questioning if Jacko actually did sing on one of the tracks (Breaking News) at all.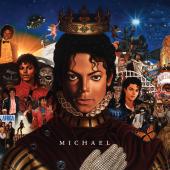 When (or possibly if) the dust settles, we should be grateful that this isn't simply a predictable Best Of compilation. It could more accurately be described as a Not Quite Best Of album, as it mainly features tracks that weren't considered all that to be released in the first place.
Ironically enough though, this mish mash of tracks makes up what could easily be the most cohesive MJ album in years.
With a little help from Akon (one of many collaborators featured throughout this album), 'Hold My Hand' sees MJ start as he means to go on, in an upbeat mood. The production is as slick as it gets, and the two vocals work well together. Even the arrival of the choir, despite ringing the bells of predictability, fit the track.
'Hollywood Tonight' is full of trademark Jackson; it has a killer beat, and could easily be related to 'Billie Jean'. The bass alone is enough to make the heaviest of toes tap. Close your eyes and you can see a silhouetted figure moonwalk.
One of the great things about Jackson was his vocal versatility. Whatever the speed of the track, he could lay the appropriate vocals. As ballads go 'Keep Your Head Up' is predictable stuff by Jackson's standards. It still stands head and shoulders over more average chart fodder though. It's a little Jackson-by-numbers, but as he gets so much of it right, you can forgive him.
Stepping it up a gear though is '(I Like) The Way You Love Me'; it feels like classic Jackson, when Quincy Jones was producing his Off the Wall album, and helping to mould him into the star he soon became. It's wistful and easy going, and is riddled with a sunny joy.
Rather ironically, 'Monster' could have easily fitted into the overall feel of Thriller; it also features a rap vocal by old Fiddy Cent, which gels perfectly into the mix. There are some clever lyrics in there too; it's an allegory for the media and how the same beast that can turn nobodies into stars, also has the power to turn them into monsters. It sounds like Michael was definitely getting something off of his chest.
The production is turned down to a notch or two on 'Best of Joy'; it's a syrupy ballad, that's just a little too on the cheerful side.
Michael has another swipe at the media with 'Breaking News'. It starts with news anchors declaring "If you thought that there was nothing more to say on Michael Jackson, just wait". Then he starts singing about himself in the third person, before making a few declarations himself in the first person: "why is it strange that i would fall in love? Who is this boogie man you're thinking of?". The only real surprise is that it took him so long to come out and say it, regardless of whether or not he was guilty of some of the things he was accused of. It's not like he hasn't done it before; 'Billie Jean' is allegedly about a deranged Jacko fan who claimed he was the father of one of her children.
'(I Can't Make it) Another Day' is almost a Bond theme that never was. Featuring vocals by Lenny kravitz, it was originally recorded for Jackson's Invincible album, but was later dropped. Thankfully, it shines nicely here.
The only cover on the album is 'Behind the Mask' that was originally released in 1979 by the Yellow Magic Orchestra; it was subsequently a hit for Eric Clapton in 1987. Jacko's version was ready for release on Thriller, but was held back due to legal reasons. There's no denying that it has elements of the Thriller incarnation of Jackson, and plays to its strengths.
The same could be said for the final track 'Much too Soon', that was also written during his Thriller phase. It's gentle, and reminiscent of more innocent times, for all concerned.
All in all it's a rather odd little collection, but it does kind of work. It's not sure how many more of these types of albums Sony might have up their sleeves – after all, there must be more MJ tracks covered in moth balls, waiting to see the light of day – but being this is the first one off the blocks, there's a consistency in high quality here.
Of course it will sell by the proverbial bucket-load, leaving him more cash to stuff under his Blanket, but it also won't do his legacy any harm. In many places it's pure Jackson of old; you know, the young MJ, with the moves and the grooves. He may well be dead (and even that isn't a guaranteed fact for some), but his music will always live on. This may not be the man at his best, but it certainly serves as a good reminder as to why he was nicknamed the king of pop in the first place.