G I R L
by Pharrell Williams

Fingers. Pies. Pharrell Williams is currently all about these two things, in what appears to be a fairly surreptitious attempt to take over the world. Solo artist, producer, member of rock group N.E.R.D, member of musical producers The Neptunes, and co-founder of clothing brand Billionaire Boys Club and Ice Cream footwear. Oh and father to a young son named Rocket Man Williams. And all this is, no doubt, only stage one of his bid for world domination.

And if all that wasn't enough, there's a chance that he'll steal the crown from Cliff Richard as the Peter Pan of pop, as he still manages to look, rather sickeningly, like a spritely teenager, despite being forty years old.

It's probably the fact that Williams' career path is so diverse, with so many fingers in so many pies, that he's only now gotten around to producing this effort, only his second album as a solo artist.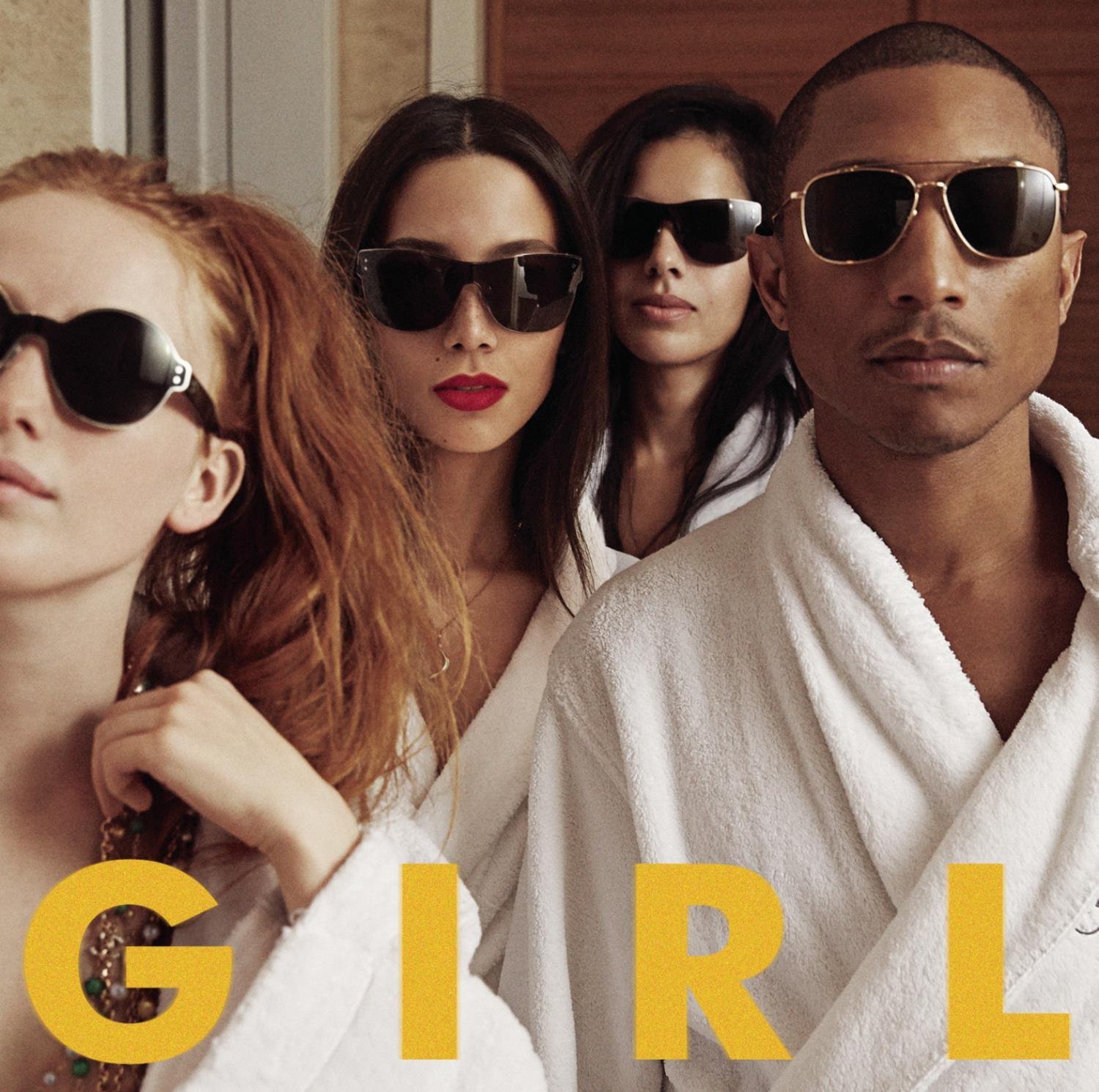 Strings. Soft and subtle. This is the intro to the first track, 'Marilyn Monroe'. It's a song with a nippy tempo, bathed in a crisp bass. It's the perfect example of Williams at his best, as he is soon becoming the king of catchy. All this despite having backing vocals from Kelly Osbourne. That's the kind of genius he is.
An old pal of his turns up for 'Brand New', as Williams duets with Justin Timberlake. Strings have been replaced with a brassy brass section, heightening the funk quota. It's a slice of summer that sizzles from beginning to end. Glorious.
Williams goes up an octave or three in his vocals for 'Hunter'; it sounds like a homage to R & B's Imagination and the distinctive vocals of Lee John, with its echoes of their 'Just an Illusion'. And there's that driving bass there too.
There's a little bit more funk and a dash more soul with the next track. It's sexy, despite an awkward title: 'Gush'. Williams gets around it by pronouncing it 'Gooosh'. Nice work. It's quality through and through. He states that he wants to "light that ass on fire" and it would be no surprise to have an incendiary rear explosion across the globe that could be seen from space, such is the power the Williams wields.
Next up is a song that you may have heard before. Despite coming from mediocre children's flick Despicable Me 2, 'Happy' has done pretty well for Williams. It made number one in the UK, not just the once but on three separate occasions. It's easy to see why. It's the musical equivalent of a verruca – not only does it get under your skin, it's seriously infectious. The song also spawned the world's first 24 hour music video, which features the song on a loop for, yes you've guessed it, 24 hours, featuring a number of cameos throughout, including Steve Carell, Jamie Foxx and Magic Johnson.
'Come Get Bae' sees Williams get his Prince on, with another funky number. He uses an analogy throughout, regarding a female riding his 'motorcycle', warning her occasionally to go easy on the clutch, and to pop a wheelie now and again. Which part of this sexual act is his actual manhood is anyone's guess though.
Williams is undoubtedly a musical maestro, but he does appear to struggle with song titles. Further evidence of this Achilles heel is 'Gust of Wind'. It sounds like the kind of comedy track that Flight of the Conchords should be performing. The song itself is a more positive effort. The sound of the seventies returns with a repetitive groove that struts its funky stuff across the dance floor. It's just a shame the he didn't call it 'Gust of Gush' – maybe he's saving that beauty for his third album.
'Lost Queen' is laced with the sounds of Africa. It may be a little clichéd, but it doesn't stop the track from being a fun and bubbly gem. If ever there was to be a sequel to The Lion King (wait, what do you mean there already is one?!) then this would fit perfectly on its soundtrack. The almost hidden track attached though ('Freq'), is probably the weakest track on the album.
With the album drawing to a close, Williams includes another duet, this time featuring Alicia Keyes on 'Know Who You Are'. It's a soft, laid back track that passes by inoffensively enough.
Finally 'It Girl' sees Williams whip his bass out once again, laying it heavy all over this track. He certainly gets his funk groove on and bows out in style.
There's no denying that Williams has the Midas touch and this looks likely to continue with this latest album. Those looking for something more hardcore may be a little disappointed with this offering. This isn't a niche album: quite the opposite, it's one to satiate the masses. Sure it may well be a little on the safe side, but it's gloriously put together. The production alone is deceptively simple, and yet wholly effective.
It may well be a commercial album, but there's really nothing wrong with that. Williams knows what a good tune is, and putting together a collection this strong and solid is an impressive achievement. It has a warmth to it that certainly those suffering many a cold and chilly night for longer than they care to remember will appreciate. Sunshine for the soul is no bad thing at all.
This is an album that can withstand instant repeats. It is a melodic anthology of past glories, with its many retro nods to the world of soul and funk. Ultimately though, it reinforces what we already knew, what a truly talented shit Pharrell Williams is. And that doesn't look like changing any time soon. Just don't be surprised to find this music lark a mere stepping stone for Williams; President of the US of A? Bigger. President of Everything more like. Not only that, you can bet your bottom dollar that the national anthem will be a real humdinger. And for that President Williams, we salute you.