Villains
by Queens of the Stone Age

Rock is dead. Certainly if you listen to the charts (and does anyone actually do that anymore?) that literally sounds the case.

Thankfully there are some dedicate rockers willing to give the genre mouth to mouth, in an attempt to revive this deceased genre and keep it ticking over that little bit longer. Enter stage left: QotSA.

Front man Josh Homme and the rest of the band have been dishing out their brand of delicious rock since 1996 and it still sounds as fresh today.

Villains is their seventh studio album, and finds the band in a joyously rocky mood.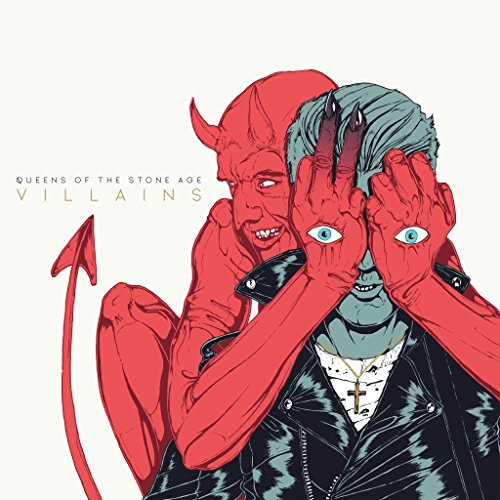 There's something eerily ominous surrounding the beginning of the first track 'Feet Don't Fail Me'; it grows like a soundtrack to an eighties sci-fi flick, before some guitars eventually bully their way into the picture. At times Homme's vocals have a David Bowie quality; part parody, part tribute act. Meanwhile some keyboards soar with an electro styley, complimenting the guitars rather nicely.
The pace is immediately picked up with the arrival of 'The Way You Used to Do' with its frenetic start. Guitars buzz around like annoying bees, flitting from one ear to the next, as Homme delivers his sharp lyrics. It's adrenaline fuelled and never lets up.
That synth, Blade Runner-esque theme continues with the intro to 'Domesticated Animals'. It soon gives way to a melodious beat, with drums and bass making their presence felt. It's a dark and chilling slice of rock that lives with you long after it has finished. It's also loud without being busy. Nice that.
There's almost a jaunty mood to 'Fortress' once it gets going. Homme uses his voice to good effect, as it winds gently through a welcome soundscape. A rock song that doesn't feel the need to push too hard.