Fallen Empires
by Snow Patrol

For some bands, success just happens for them overnight. For others, they have to work their rock n roll socks off. It was certainly a case of the latter for Snow Patrol.

Despite forming at college in 1994, the band didn't release their debut album Songs for Polarbears until 1998. It reached #143 in the UK album charts. It's follow up in 2001, When it's All Over We Still Have to Clear Up faired a little better, reaching the dizzy heights of #129 in the UK albums chart.

In 2004 however, they released the single 'Run'. It was the game changer the band were looking for, with the song reaching number five in the singles charts. Its success meant that the album Final Straw from which it came, reached number three in the album charts. And with that, the band had finally arrived.

Now the band release their sixth studio album, Fallen Empires. For those not expecting any great changes musically, you'll be pleasantly pleased with yourselves for being right.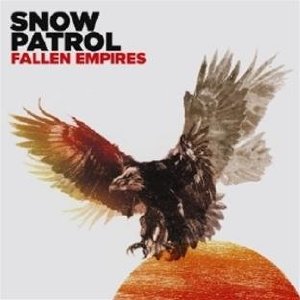 A catchy keyboard intro marks the start of the first track 'I'll never Let You Go'. Soon after Gary Lightbody's dulcet tones chirp in. Adding to the mix is a fine drum beat. The song is being built like a musical cake, layer by layer. By the time the guitars are added, there's a tasty track to be had. It's pleasingly edgy, considering, well, you know, it's Snow Patrol. There's an unconventionality to it that should be applauded.
The first single lifted from the album is next. 'Called Out in the Dark' feels more like your regular your average Snow Patrol song. And that's not a bad thing necessarily. It's a poppy little tune that has a pseudo disco beat swanning about in the background.
Gary stamps his vocals early on all over 'The Weight of Love'. Again he has a driving beat just underneath his lyrics. It's as if it's in a bit of a hurry to get to where it's going. Some nice guest female vocals that are tinged with a gothic flavour add a welcome weight to the song. There's a real sense of urgency about the track, which again, you wouldn't really expect from the band.
Softer, safer ground is covered with 'This isn't Everything You Are'. It's archetypal Snow Patrol stuff that does its best to not so much pull but yank at heart strings. Choirs appear to be very much in vogue at present, as yet another one here turns up, not so unexpectedly. Whether it makes the track closer to God is unclear. It reeks of single material that sad saps everywhere will fall for.
Soft strings and plinky plonky piano rain down on 'The Garden Rules'. It's a delicate, fragile little thing, swaying on am autumn breeze, with lyrics that have a lullaby rhythm to them. It's a Radio 2 anthem is what it is.
The band wakes up a little with the title track 'Fallen Empires'. Again it has its fair share of keyboards and drums that are doing their thing throughout. Only problem is, nothing much else happens. Making the whole experience a little deflating by song's end.
And then they have a bit of a Coldplay moment. Halfway through the album they stick an instrumental on. It's only a bite-sized track, which only makes it all the sceptical; you can just imagine 'Berlin' being snapped up for any number of adverts, or as a bed on various TV shows, including Match of the Day. Stick that kind of thing on the end of an album, but not slap bang in the middle. The next time you're humming it will no doubt be in the supermarket with a bag of frozen peas under your armpits.
Gary's back on the lyrical wheel with 'Lifening', where he spouts about all the things he ever wanted from life. It's the kind of list you might find on a very dull blog. Dreary as dishwater.
It's yet another slow pace with the next track 'New York'. It's a love song you see, where Gary wants the person he loves to "Come on, come here". Gary might mean every word (he seems a sincere kind of chap so why wouldn't he?), but the song lacks any real emotion.
'In the End' is a bit more up tempo, but no more predictable. Life would still have meaning if you never heard this song.
The band's trademarked quietness creeps in and envelops 'Those Distant Bells'. It should be moving and tender, but it isn't. What it is is formulaic. And you don't even get to hear any bells.
It's a bit more up tempo with the next track, but the dreariness continues. It doesn't help that 'The Symphony' is over six minutes long. This might be Snow Patrol's attempt at something epic. But the only epic thing about it would be 'fail'.
The end is tantalisingly close now, but just to draw out the pain, the band slow things down to a virtual crawl. 'The President' isn't much of anything. There's no verse or chorus divide, just Gary singing in a sombre tone. It's like the dullest poem ever set to music.
And with the last track it's like the band read our minds. Another bloody instrumental. And yet 'Broken Bottles Form a Star (Prelude)' doesn't contain any of the musical dirge that has passed before it, so that' s something to be thankful for at least.
Although it's safe to say that no-one was expecting a huge shift in musical direction from the band with this latest album, a little more originality certainly wouldn't have gone amiss.
There are safe albums, and there are safe albums. Fallen Empires is smothered in cotton wool, then covered with miles after miles of bubble wrap; you just can't get much safer than that.
Gary and the lads are canny enough to make sure they have the prerequisite singles to come off of it that will no doubt shift the album by the proverbial bucket load. But as far as artistic integrity is concerned, forget it. It's difficult for even the most hardened fan of the band not to be disappointed by this effort.
Fallen Empires is an album that sees a band resting far too often on their laurels throughout it. It's just plain lazy. Considering it took a while for it to happen for them, they really shouldn't take their success this much for granted.