Right Thoughts, Right Words, Right Action
by Franz Ferdinand

One of the most painful things about being a lover of music in general, and specific bands in particular, is you're only ever one song away from eternal disappointment. Take Coldplay; their debut album Parachutes is an achingly beautiful thing, but their sound has mutated in such a way that anything since then can induce violent nausea.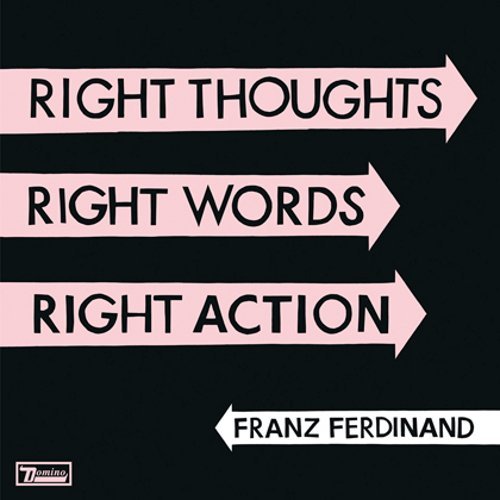 There is one band that appears to contradict this theory, and they go by the name of Franz Ferdinand. Right Thought, Right Words, Right Action is their fourth studio album, and continues their path to musical glory.
'Right Action', the opening track, is a bouncy thing with drums and guitars going at it like rabbits. It's unmistakeably Franz Ferdinand, with all their trademarked noises in place, making it a perfect piece of pop. And if it hasn't been used in a TV advert as yet – other than advertising the new Franz Ferdinand album that is – it soon will be.
Who's that on the phone you say? It's 'N Sync from the late nineties and they want their song back. Actually, 'Evil Eye' isn't theirs, but when you hear it, you can so see those energetic bunnies doing a 'Thriller' style routine to this track. What would be worth seeing more is Franz Ferdinand doing 'N Sync moves to this song in the video, but that sadly won't be happening. It has a great Halloween vibe to it that goes beyond just having the word 'evil' in the title.
'Love Illumination' invokes that sixties vibe that features so much in the work of this band. It's not just the pumping intro, but also the Hammond organ that pops in for a solo halfway through. The revving of guitars is a nice touch too.
There's a gentle start to 'Stand on the Horizon' that dissipates in favour of a far groovier proposition. It's almost like disco never died.
There's a fruity feel to 'Fresh Strawberries', not that it lasts long, as the fruit in question soon withers and dies in the song. The fruit may be soon past its sell-by date, but the song continues its homage to the sixties with a vibrant whiff of welcome enthusiasm.
'Bullet' shoots out with the speed of, well, something propelled at great haste without letting up. Drums push the track constantly from behind, making it feel it's always just teetering on the edge. And then, it's gone in a flash.
The Hammond organ and Shadows-like guitar riffs that featured so heavily on their last album Tonight, erupt elegantly here on 'Treason! Animals'. It's an extension of the retro theme, with a sharp, smart energy about it.
Perhaps Alex Kapranos and co have been listening to some Jean-Michel Jarre (particularly his 1984 Zoolook album), as the intro to 'The Universe Expanded' is a clear nod to the electro Frenchman. It has a darker tone than most of the tracks here, before a rather light chorus comes along and slightly spoils things.
Although its organ intro belies a different type of genre, 'Brief Encounters' soon takes on a gentle Caribbean lilt, with a totally tropical taste. It's a pleasantly refreshing direction, albeit just for one song. Its lyrics are semi saucy by nature too, implying a meet up as such –"car keys, choose your keys, car keys, choose your keys" chanted over and over. Let's just hope that the seats go all the way back.
There's a real sense of finality with the last track 'Goodbye Lovers & Friends', where Alex sings about not liking pop music, hoping that they also didn't bring flowers or write a poem, so doesn't sound in the cheeriest of moods. Still, other peoples' poetry can be really bad, so you can't really blame him. It's kind of fitting that it's the last track on the album. Or is it? Well, if you bought the lush deluxe version, then no, it isn't, as it has another disc of live tracks to love and to entertain.
It's ironic that when Franz Ferdinand first burst onto the scene, we'd never have pegged them as being the saviours of pop. They looked a little to academic and full of themselves, which isn't attractive. And yet so far, they have produced a stunning discography of gorgeous ditties that really put the p's in pop music.
Of course it's bound to go wrong at some point, as it invariably does, but until then, Right Thoughts, Right Words, Right Action continues the good work the band have thus achieved. Although it sounds almost wrong to admit it, yes, we are fans, and after listening to this, you probably will be too.