The Future is Medieval
by Kaiser Chiefs

It's been three long years since Ricky Wilson and the rest of his Kaiser Chiefs graced us with an album. They've kind of made up for their absence with 20 new tracks on their fourth long player The Future is Medieval. Not that you had to have all of them.

Embracing this brave digital age we find ourselves in, the band decided to let fans choose their favourite 10 tracks from the selection on offer, in a pick 'n' mix styley, and download them.

For those who struggle to make their own minds up, the band thankfully produced a physical release with 13 tracks in a nice regular order.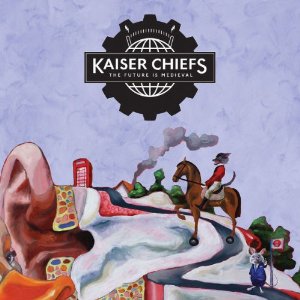 The first track they decided to plump with themselves is the recent single 'Little Shocks'. It's an impressive start, feeling like three songs rolled into one. It sounds influenced by Talk Talk a bit – the band that is, not the phone company – mostly in Wilson's vocals. It's busy, but not overly so. It's trademark Kaiser Chiefs and no better way to kick off a new album.
'Things Change' resonates with influences from Gary Numan. Its electronica purrs from your speakers, caressed with a thumping drum beat. It's a curious fellow, that's for sure, but not altogether unpleasant. It's bold and musically ugly, but works.
The guitars are more prominent in 'Long Way From Celebrating'. It has that energy you can often associate with the band, although they take it up a notch here.
Plod, plod, plod. That's what 'Starts With Nothing' does for about half of the song. The middle section sounds as if it's abducted by aliens during the sixties, before ending on its inevitable ploddy path. As curious as its middle is, there's just too much plodding around for our liking.
If we were going to put together our own version of this album, 'Out of Focus' wouldn't be part of our top ten. It's dipped in beige and doesn't do anything exciting. It sounds more threatening in places than it really is, but is shockingly harmless.
The testosterone is well and truly up for 'Dead or in Serious Trouble' thankfully. It might be the Hammond organ, but it wouldn't feel out of place in Kubrick's A Clockwork Orange. It's a slice of aggressive rock, tinged with a hint of retro.
The retro palette is used again, rather heavily, with 'When All is Quiet'. It's just too lightweight and sixties kitsch to be a worthwhile album track.
There's a nice bounce about 'Kinda Girl You Are'. Again it feels dated, but its rhythm section has a greater sense of urgency and purpose, giving it a well-needed lift.
With 'Man on Mars', its intro feels like you're stuck inside a ZX Spectrum, with some rather funky sounds floating around your head. They take a back seat somewhat as the track moves on, but it develops into a rather fine tune. And finally a catchy Kaiser Chiefs chorus to join in with during festival time.
More familiar musical ground comes in the shape of 'Child of the Jago'; it has a template of a Kaiser Chiefs song, but unfortunately it doesn't quite push all the right buttons. Googling Jago didn't prove that helpful either; it's the Cornish name for James apparently. Not that exciting then.
The band keep their synths plugged in for 'Heard it Break'. It has a darker edge to it, with an electro outfit on that wouldn't look out of place in the eighties. But in 2011, it doesn't quite fit.
With the end nearly in sight, 'Coming Up For Air' appears on the horizon. It's a slowish number, with a piano borrowed from Bruce Hornsby and his range, but at least it's used to good effect. It's the longest track on the album, but thankfully it's one of the better ones too.
Acting as the album's bookend is 'If You Will Have Me'. It sounds slightly different; this is probably due to the band's drummer Nick Hodgson taking over lead vocals. It's a sweet finale, with lush strings and acoustic strings being gently strummed.
Whether or not the band had this pick 'n' mix idea from the start or it was suggested to them late on is unclear, but the whole notion may well have unsettled the usual album-making process. There's something a little wishy washy about letting fans decide what tracks they want on their Kaiser Chiefs album. It's your bloody album gentlemen, so grow a pair and decide amongst yourselves.
Having listened to all of the initial 20 tracks, it's still difficult to say whether the right tracks made it to this CD release. If the band focused on just delivering a packaged 13 track album themselves, then perhaps The Future is Medieval wouldn't feel too much like the disappointment that it is.
Despite the obvious retro influences, the album as a whole is just too disjointed. Instead of being a great album with great tracks like their previous efforts (such as Off With Their Heads), it's just an OK album with a few great tracks on. Let's just hope they don't repeat this particular epoch in their history with future albums.