Magic Hour
by Scissor Sisters

There's been a real struggle for New York's disco divas the Scissor Sisters to build on the success that their eponymous debut album achieved. Their third and most recent album, 2010's Night Work, failed to shift anywhere near as many units as their previous long players.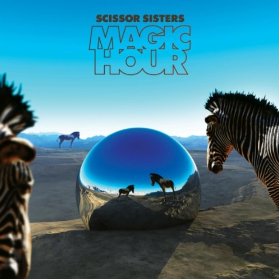 Magic Hour no doubt is their attempt to rectify this matter. And to a certain extent, they pull it off.
That casual seventies pop vibe that's their trademark sound is stamped all over the opening track 'Baby Come Home'. It's full of retro chic, and is exceptionally playful. It's the kind of song that would have Radio 2 playlisters wetting themselves with excitement. It also sounds like it could double for the theme tune to a loveable eighties US comedy show, possibly involving two straight men living together, looking after a baby, or even a small furry animal of some description.
There's something a little more hip about 'Keep Your Shoes'. It's got a beat that would work better in a club with an urban flava, rather than a disco. You wouldn't necessarily automatically think it was a Scissor Sisters song, which is no bad thing, proving that the band can move forward as well as backward.
There's a subdued groove to 'Inevitable'; lead singer Jake Shears shows some manly restraint, which works out. It has a chorus that must have been stolen from an Imagination album, but works well. Retro soul is a nice side-step from the usual D-I-S-C-O.
Single 'Only the Horses' is also more contemporary, in that it would probably be a winner for any nation in Eurovision, with the exception of the UK that is. Again Jake approaches the song with more emotion and less flamboyance. On one hand it's sad that it lacks any kind of identity with the band, but at the same time, it's a really decent tune.
The production on 'Year of Living Dangerously' is definitely an homage to eighties ballads. The problem is, there was a time and a place for eighties ballads, which was obviously the eighties, so this track feels dated in a bad way.
According to the song 'Let's Have a Kiki', a 'kiki' is a party, a pretty fabulous one at that, it's safe to assume. The song is a curious one; at times it's as if the Los del Rio's crime against music that was 1995 'Macarena' has come back from the dead and in part possessed this track. And yet it still manages to sound bearable. This is possibly due to the fact that the track as a whole is pretty unconventional, as Anna Matronic spins out her yarn about going to a party. Apparently her derriere gets a certain amount of unwelcome attention on the subway. It wouldn't come as a surprise if someone choreographed a whole dance routine to go with it on the dance floor.
That urban flava returns big styley with 'Shady Love', featuring as it does Jake as his alter ego Krystal Pepsy, alongside rapper Azealia Banks. It's trying really hard to be hip, but maybe a little too hard. It comes across almost like a parody, in the same way Flight of the Conchords would approach a song. But despite all this it still manages to impress.
'San Luis Obispo' is yet another change in direction; it's gentle, inoffensive pop that's just a little too twee. Again, Radio 2 would cream themselves over it, especially that Graham Norton.
And change again. 'Self Control' has a retro dance floor filler vibe. It wants to be best buddies with anything by Snap!, but in particular their euro hit 'Rhythm is a Dancer'. It's second in comparison, but nice to hear something a little different from the band.
We're still in da club for 'Best in Me', albeit in a cheesy ballad kind of way. It has a sweet 'La Isla Bonita' feel about it, continuing that euro trip the album is clearly on.
Jake returns to his softer side for 'The Secret Life of Letters'. It attempts to be really sincere, but comes across as being far too trite to be taken seriously. In fact, it feels wrong for any song by this band to take itself this seriously. Unfortunately it fails to be anywhere near as emotionally poignant as it wants to be.
That bland feeling continues with 'Somewhere'. It wants to take you on a beautiful, magical journey, but you'll probably just want to stay home for this one, as the truth is, it's not going anywhere.
Just when you think it was safe to turn off your music dispenser, Ms Matronic introduces a further three tracks, although two of them are just remixes of other tracks here. Still, more bang for your whatsit.
The band has to be commended for at least pushing their sound in different directions. OK it doesn't always work, but there's a valid attempt to bring something fresh to the table.
Taking everything into account, this is a pretty strong album overall. The band doesn't forget their early disco roots, and yet appear to enjoy stepping out on various other dance floors. And yes, the Scissor Sisters can pull off a pretty contemporary sound. Now no-one saw that coming.
It's a fun little thing that almost pleads to be played in a warm, summery setting, as it's powered by sunshine. If you have forgotten, much like the rest of us, how good this band can be when they're on form, the Scissor Sisters prove with Magic Hour that they've got their timing just right with this one.