The Song of the Quarkbeast
by Jasper Fforde

Just six weeks have passed in the Ununited Kingdoms since Jennifer Strange did her dragonslayer thing in The Last Dragonslayer, the first title in a new fantasy series by Jasper Fforde. Our heroine, Jennifer Strange, is still attempting to marshall a ragtag bunch of magicians in her role as acting manager of Kazam Mystical Arts Management. The dragon-driven delirium has died down. But not quite everything is back to normal: the dragon-induced Big Magic has meant that the magicians' powers are stronger than ever. And the whole dragon episode has meant that the public's trust in magic is slightly improved, which means a bit more work for the magicians.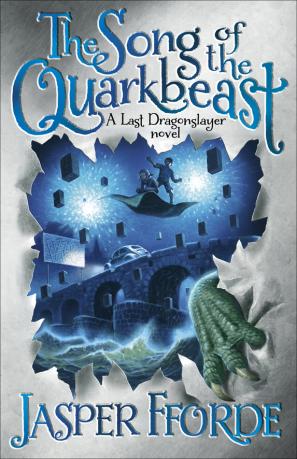 When a mysterious lady pays the Kazam magicians a vast sum of money to search for a lost ring that doesn't want to be found, Jennifer and her pointy-hatted colleagues suspect that something rather unusual is afoot. At the same time, one of the 'precogs' has a recurring vision that makes little sense. Then the Amazing Blix, a magician that heads up iMagic, the rival employment agency for magicians, falls in league with the maniacal monarch and challenges Kazam to a contest, with the winner taking over the opponents' business. With everything to play for, Blix sets about playing in as underhanded a way as his diseased imagination can conjour, leaving Kazam in dire straits indeed. Add the potential annihalation of a chunk of the kingdom due to the surprising confluence of two quarkbeasts (magical creatures whose behaviour is inspired by quantum physics), and you have a tale that is chock full of fantastical, ever-so-entertaining mild peril.
Fforde is the critically acclaimed author of the Thursday Next and Nursery Crime series of novels. This series is his first ever to be aimed at a younger audience. And like his other series, it's accompanied by rich online content. A visit to the Dragonslayer pages on his website will reward you with all kinds of extra content and competitions.
If the first book in The Last Dragonslayer series levitated your flying carpet, then there's every chance this one will too. The reader gets to know some of the characters a bit better, like Mother Zenobia and the Mighty Shandar, and discover the secret to their eternal youth. The reader also finally gets to meet The Great Zambini and learn more about just why he vanished in a puff of magic at a children's party all those years ago. Fforde introduces some new characters too, one of which is a love interest for Jennifer. Happily, the moralising undertones lurking in The Last Dragonslayer are not in evidence here.
The plot is engaging, but it's slightly predictable. It's also a trifle formulaic. As in The Last Dragonslayer, there's a premonition involved, which precipitates a caper, which is central to the story. What is unexpected is the almost total absence of dragons from the story, or any dragonslayer action at all: Jennifer has returned to her normal life, and the dragons barely get a mention. Fforde's fantastical menageries are always his strong point: what the story lacks in dragons it makes up for in a host of other magical beasts, especially quarkbeasts. As in his Thursday Next series, the relationship between heroine and beast is delightfully depicted and thoroughly warms the cockles.
If fantasy is your thing and you're looking for a light-hearted, wryly observed, rip-roaring read that is devoid of adult themes, then this is likely to be just your cup of tea. It's a magical read for young and old, and it leaves the appetite thoroughly whetted for the third installment in The Last Dragonslayer series, The Return of Shandar, due to hit UK bookshop shelves in November 2012.