Sounds From Nowheresville
by The Ting Tings

There's always a lot of talk about the pressure of the second album. The reality is however, that if no one heard your first, it lessens the pressure for the second. Pressure is having your debut sell over 2 million and pick up a prestigious Ivor Novello award for best album.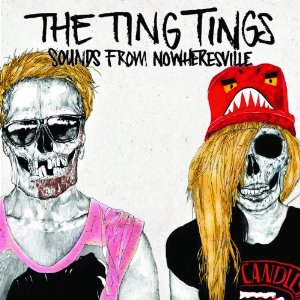 It's no surprise then that The Ting Tings follow up to We Started Nothing was going to give them some grief. So much so that they completed an album some time ago, but weren't happy with it so scrapped it and started from scratch. Sounds From Nowhere is their second crack at it.
It's a slow-burning start with 'Silence'; it picks up soon enough, in volume at least, with a few extra instruments added to the mix. It feels like it's growing into something rather epic, but doesn't quite succeed. Lyrically there's little there either, certainly nothing to get excited about with Katie White just repeating the same old phrase over and over again.
There's the sound of bells in the air – is there someone at the door? No, it's just the intro to 'Hit me Down Sonny'. With it comes a definite bounce to the track, bouncing on a bed of military style drums. It's catchy, albeit a little repetitive. Again, more instruments are introduced, individually this time, but it struggles to find another gear.
The first single 'Hang it Up' is more upbeat, slathered as it is in pseudo street attitude. Again more repetition, but this time at least it's confined to the chorus, so that's OK. The guitar comes in with menacing effect, giving the track that well-needed edge. So far the album has less pop appeal than the first.
Starting the vocal duties on 'Give it Back' is male Ting Jules de Martino; he hasn't got the greatest of voices, but then again he doesn't need to, not when Katie does the majority of singing. The track itself indulges in bouts of rock, making it pleasingly loud and brash. The only downside is perhaps, that it sounds as if someone is tapping the side of their cheek throughout as if it were an instrument; it's the kind of thing you'd see some oily twat do in the audition stages for Britain's Got Talent and nearly get through to the next round with. It can only predominately be heard through headphones (rather oddly), so if you're playing it without them, you should be fine. Overall, it's up there in the energy stakes.
Katie starts off talking her way through 'Guggenheim', as she goes about telling her story. She tells a sorry tale of being taken for granted by her partner. Hell, we've all been there. In the chorus she shouts of how she's going to get her face painted at the Guggenheim; it's not a service that is really provided by the museum, but whatever works for the individual. Unless there's face-painting for the kiddies outside of course. It's a different approach for the band, and there's nothing wrong with that.
Although the next track is entitled 'Soul Killing' there's more of a reggae vibe going on. And it may well have been someone playing the cheek in a previous track, as one of the most prominent sounds on this one is a squeak. You know how irritating a chair squeaking can be? It's like that all the way through. And yet, rather remarkably, it's not that irritating. This is probably down to everything else going on in the track, which is a fair bit. But like some of the best dishes, they've been created by a number of surprising ingredients.
The early eighties comes a-knocking with the synth-infused 'One by One'. It sounds a little 'Radio Gaga' in places, but there's no harm in that. It's about as poppy as the album gets, albeit in a retro fashion.
There's something a little too US-inspired girlie ballad with the next track 'Day to Day'; it would be alright for Avril Lavigne, but you kind of expect more from The Ting Tings. It's the kind of song that you would hear in the background of an episode of Gossip Girl and it doesn't get much worse than that.
The penultimate song 'Help' is another slowly; it has echoes of Dream Academy's 'love in a Northern Town', with Katie singing softly over gently plucked guitars and such. It clearly wants to strike an emotional chord, but sadly fails to do so.
There's certainly a dramatic finale with 'In Your Life'. With its dark guitar riff, repeated over and over, accompanied by a mournful violin, they certainly bow out in sombre style.
Maybe the pressure did get to the Manchester duo. This album is one that tries far too hard to please. It's slightly over-produced, and that's about the only consistency it has. It lacks the rawness of its predecessor, as well as its poppy vibrancy. At least they didn't make the same album twice, so they should at least be given credit for that.
They've gone for a cleaner, slightly crisper sound here, but in the process they seem to have lost an element of fun from their sound.
Still, it can't help but feel a disappointing follow-up to a promising debut. The curse of the second album sadly strikes again.